Sam Warburton determined to improve Wales record against southern hemisphere
Last Updated: 17/10/13 4:41pm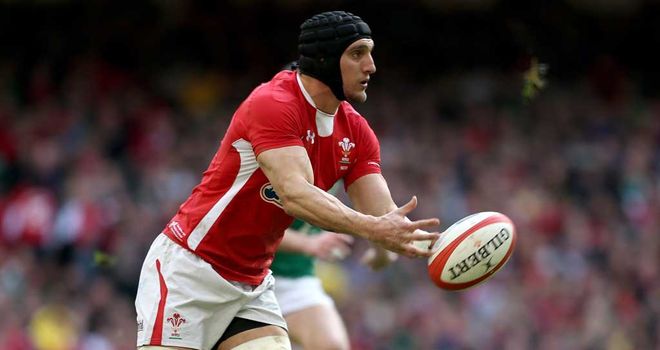 Sam Warburton: Leads Wales against South Africa and Australia next month
Sam Warburton believes Wales need to compete with southern hemisphere teams to gain more respect in world rugby union.
The Six Nations champions take on South Africa and Australia in their autumn international schedule next month.
Since Warren Gatland was appointed head coach in 2008, Wales have won three Six Nations titles and made a World Cup semi-final appearance, but their record against southern hemisphere sides makes for poor reading.
Their record under him against New Zealand, the Springboks and the Wallabies is just one win - against Australia in 2008 - and 20 defeats, although six of those losses were by margins of three points or less.
"Until you achieve against southern hemisphere sides, it will always feel like there is work undone," Wales skipper Warburton said.
"You can do well in the northern hemisphere, but to get respect from everyone in world rugby you have to beat the southern sides.
"I hope we keep getting better. By no means would anyone just want to sit back and enjoy what we have achieved. It is what we do next that is important."
Wales kick off the autumn series against South Africa on November 9, and Warburton added: "It is a massive game to start with, especially with South Africa playing so well in the Rugby Championship and having been together for a few months.
"The past few seasons we've started a bit slowly in campaigns, like in the autumn and the recent Six Nations, so I think we have to try to replicate that intensity in training so we don't get caught cold in the first match."
The British and Irish Lions tour Down Under earlier this year ended with 10 Wales players starting the third Test in Sydney, when a 41-16 victory secured a first Test series triumph since 1997.
Warburton, who missed the third Test because of a torn hamstring, added: "I think it will have a positive effect. Hopefully, we can replicate it in a Wales jersey.
"It happened for the Lions, but I don't think the players would rest on that. They want it to happen in a Wales jersey, and they know it would mean a lot to all the supporters.
"Every autumn, everyone is really optimistic that we can get a (southern hemisphere) scalp, and hopefully this year we can.
"Perhaps winning with the Lions is the edge we need. You have good memories from your last performance, so the Lions can only have a positive effect.
"As players, every tournament you go into there is always that expectation to do well, and it will be no different this autumn. The players are quite used to that feeling.
"It has always been close, we have never been a million miles away. I always believe that every game we go into we can win."