Gareth McAuley wants Northern Ireland to make amends for Luxembourg result
Last Updated: October 9, 2013 4:00pm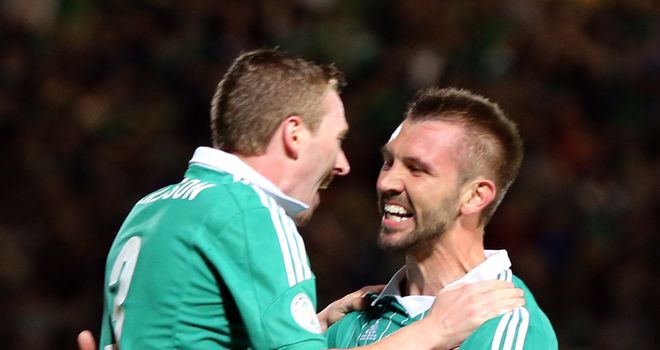 Gareth McAuley: Wants Northern Ireland to make amends for their recent embarrassing defeat in Luxembourg
Gareth McAuley has called on Northern Ireland to bounce back from their Luxembourg nightmare and secure a win in Azerbaijan.
Michael O'Neill's side suffered the ignimony of a 3-2 defeat at the Stade Josy Barthel last month, ensuring Friday night's clash in Baku is the final chance to take three points from a lower-ranked nation.
McAuley said: "We weren't good enough individually or collectively in Luxembourg. It was obviously a bit of a horror show but we've got this game now to try and put things right.
"It wasn't just one person, the whole team couldn't pass it from A to B and that gave them confidence to come at us.
"We lost shape and discipline and we were expected to win it so you end up trying to do a little bit more, things you wouldn't normally do.
"We ended up causing ourselves problems and shooting ourselves in the foot. It was an embarrassing defeat.
"Obviously Michael was angry, but you expect that. Things were said and taken on board and everyone is here now to try and put things right.
"We're not here to entertain this time, we're here to get a result."
McAuley, who turns 34 in December, will not rush into a decision on his international future having made his debut for the national side in 2005.
"I've had conversations at home with family and obviously with my club as well. There's no conclusion being drawn at the moment and as it is I feel fine to carry on doing it so it's every day as it comes," he said.
"If I have to make a decision it would probably be around pre-season next year."