UAE 2000 Guineas the call for Exogenesis
Last Updated: 17/09/13 1:52pm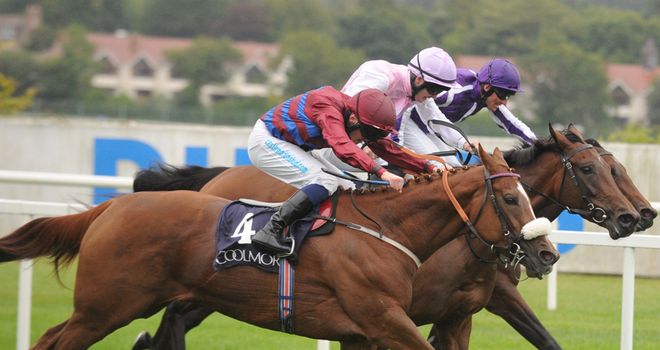 Lily's Angel (centre): Narrowly denied in Matron Stakes
Exogenesis has the the UAE 2000 Guineas at Meydan as his first major target of 2014.
The Ger Lyons-trained juvenile, winner of the Tyros Stakes in July, missed options both at home and in England last weekend with the trainer keen to avoid soft ground.
He was declared for the Champagne Stakes at Doncaster in preference to the National Stakes at the Curragh but in the end did not leave the yard due to rain on Thursday.
The Juddmonte Beresford Stakes at Leopardstown on September 29 remains a possible option but Lyons is already looking forward to Dubai.
"I was very worried about the ground at the weekend and while I was watching the races thinking what might have been after he worked Saturday morning, the races were won by two smart colts (in Toormore and Outstrip)," said Lyons.
"Our guy has had a good season already but I know there's no point in running him on soft ground as he's not at his best on it, it would have achieved nothing.
"We were loading him on to the van to go to Doncaster but the ground wasn't going to get any better than soft in my opinion, it would certainly have been holding, so we decided to wait.
"He's in the Beresford and that's an option but the ground could be soft then, too.
"I'm not saying he won't handle it, but we don't need to ask him to do something like that when down the line the race I'm thinking of for him is the UAE Guineas at the Carnival.
"He's answered every question so far for us."
Stablemate Lily's Angel could again have her prep race for the Dubai Carnival at Dundalk in November.
Since joining Lyons, the mare has proved a real money-spinner and just missed out on the biggest pay-day of her career in the Group One Matron Stakes at Leopardstown recently when touched off by La Collina.
Having already won a Group Three earlier in the season she has now become a valuable broodmare prospect.
Lily's Angel won a handicap at the Dubai Carnival earlier this year before finishing fourth in the Group Two Balanchine - but Lyons is looking at bigger targets for next spring.
"It would have been great if she'd managed to win the Matron," said the trainer.
"She owes us nothing, though, she's ticked every box this season and is so easy to train and the lads just let me crack on with it.
"What we might do is go back for the same Listed race she won at Dundalk last year which might seem strange after coming so close in a Group One but it worked so well last year en route to Dubai.
"I see no reason to change what worked so well but of course she'll have a different programme once she's out there. She's qualified for World Cup night now so we'll be working back from there.
"All horses love it out in Dubai. I take them out there for the sun - why wouldn't you when the option is keeping them in -10C at home?"