Dane Kenneth Bjerre books place in 2014 Grand Prix series
Last Updated: 24/08/13 11:00pm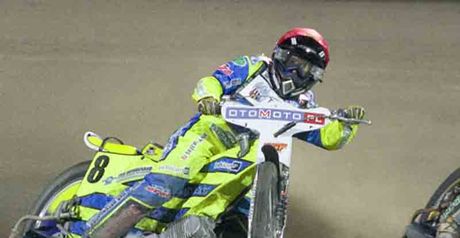 Kenneth Bjerre: Back in the Grand Prix series
Kenneth Bjerre is back in the Speedway Grand Prix series after coming through the GP Challenge at Poole.
The event at Wimborne Road was dominated by his fellow countryman and current GP star Niels Kristian Iversen - who only dropped points in his last ride as he took 13 points on the night.
Iversen is currently fifth in the GP standings and would likely have qualified as of the right in the top eight, so another place is likely to be made available to the ninth placed rider as a result of him winning the Challenge.
Second place was taken by another current GP star in the shape of Krzysztof Kasprzak - but unlike Iversen he looks unlikely to make the automatic qualifying spots, so he needed the Challenge to retain his place and he did so with 12 points.
Bjerre came through with 11 points, but it was a nervous wait as German Martin Smolinski could have levelled him in the final heat of the night with a win - but he could only finish second - meaning the Dane sealed his spot back amongst the sport's elite.
Bjerre, 29, returns to the Grand Prix series after just one year away, after losing his place in 2012.
It may yet transpire that Smolinski, because of Iversen's likely automatic placing, could yet get a place in the series for 2014.
Britain's former GP star Chris Harris, who had been handed a late guest booking in place of Matej Zagar, narrowly missed out on a top-three finish as he claimed ten points.
The other Brit in the field Danny King finished with seven points.