Joost Luiten is a worthy winner in Lyoness Open - Jamie Spence
Last Updated: 09/06/13 7:36pm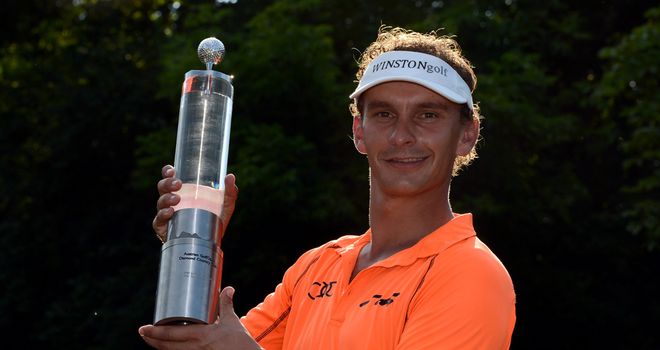 Great things are expected from Joost Luiten after shining in Austria
Dutchman Joost Luiten fully deserved his Lyoness Open glory in Austria and is now pushing for a place in the Ryder Cup, Jamie Spence told Sky Sports.
Starting Sunday with a three-shot lead, the 27-year-old overcame a couple of early scares to hold off Thomas Bjorn by two shots and secure his second European Tour title following his victory in the Iskandar Johor Open two years ago.
"He was very patient and it wasn't all over until he holed out on the 17th," said Spence.
"He is a deserved winner. I don't think the putter worked as well as it could have done in the final round but tee to green he was by far the best this week - especially his driving. He just knocked it down the middle of every fairway and his iron play was arrow straight.
"He had to break par to win the event as we said at the start of the day and no one could really get close enough to put the pressure on him.
"He began the day three shots ahead but made three putts at the first and carded a bogey. Winning with that lead is easier said than done. The other players got within a couple of shots early on but then that birdie at the second must have really settled him down."
Frenchman Romain Wattel carded his fourth birdie of the day at the sixth and the lead was cut to one early on, but his surge was short-lived with a bogey on the ninth.
There were also signs of a wobble with the finish line in sight with three holes to go, but Bjorn was unable to hole out and Luiten sank a birdie to ensure a comfortable end to the weekend with his card reading 65, 68, 67, 71 and a total score of 17 under.
"Luiten played two good shots and and made a good putt and suddenly he had a three-shot cushion again," Spence added about the drama on the 16th. "No one got close to him after that. Thomas Bjorn missed a lot of putts and he could have got closer, but really the best player of the week won the tournament.
"Moving on, Luiten will be able to profit on most courses. The Diamond Country Club course in Austria was very soft at the beginning of the week and he was able to carry the ball a long way.
"He hits the irons straight but one area he could improve on is his putting - although all professionals would probably say that. He had around 35 putts in that last round but still won. The course firmed up at the weekend and he still played it well.
"He's probably the best golfer to come out of Holland and getting selected for the Ryder Cup is possible. Bigger and better things are ahead with the way he plays the game."