Annual Review of Football Finance reveals Premier League clubs' revenue reached £2,360m in 2011/12
Last Updated: 06/06/13 10:37am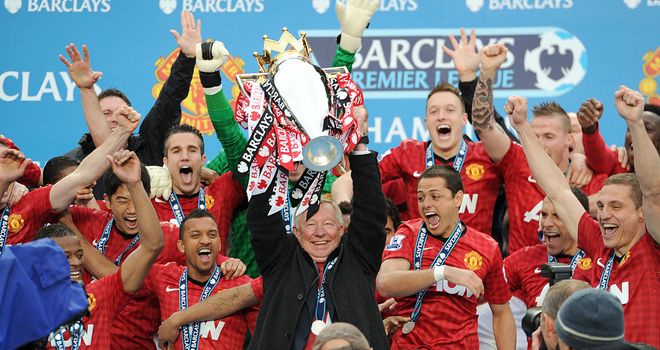 Premier League: Combined revenue increased by four per cent
Premier League clubs' revenue reached a record £2,360m in 2011/12, according to the 22nd Annual Review of Football Finance from the Sports Business Group at Deloitte.
In total, the revenue of the top 92 clubs in English football exceeded £3 billion for the first time.
Dan Jones, Partner in the Sports Business Group at Deloitte, said: "Despite operating in a challenging economic environment, English club football's profile, exposure and increasingly global interest have continued to drive revenue growth for the top clubs.
"The combined revenue of the Premier League clubs increased by 4% to almost £2.4 billion, with another year of impressive commercial revenue growth, largely focussed among the highest ranked Premier League clubs, and relatively stable matchday and broadcast revenues."
Almost 75% of the Premier League clubs' revenue increase in 2011/12 was spent on wages, which increased by £64m (4%) to £1.7 billion and resulted in the overall Premier League clubs' wages to revenue ratio remaining at 70%.
Alan Switzer, Director in the Sports Business Group at Deloitte, said: "The aggregate operating profit of Premier League clubs improved to £98m in 2011/12, though this is a margin equivalent to only 4% of revenue with half of the clubs making an operating loss.
"The Premier League clubs have agreed to a system of enhanced financial regulations, designed to improve the sustainability of its clubs.
"The successful implementation of these rules, coupled with the imminent boost to broadcast revenues, could provide huge benefits to the long-term development, growth and stability of the game and its clubs."
Revenue in the Football League Championship increased by £53m (13%) to £476m in 2011/12.
This was driven in part by the number of clubs being in receipt of parachute payments from the Premier League and the change in the mix of clubs.
Paul Rawnsley, Director in the Sports Business Group at Deloitte, said: "Whilst Championship clubs' revenues have held up well, their wages to revenue ratio has hovered threateningly at around 90% for the last four seasons, with operating losses once again reaching record levels in 2011/12.
"The Football League's Financial Fair Play Rules look to be a necessary step to help change clubs' behaviour in respect of spending on players.
"The application of sanctions in respect of the clubs' results for the 2013/14 season should focus the minds of clubs who have been making heavy losses."