MLB: David Ortiz on form as Boston Red Sox beat Houston Astros at Fenway
Last Updated: 26/04/13 7:23am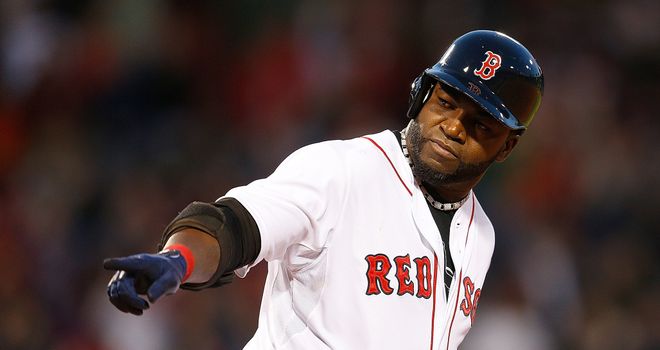 David Ortiz: hit his first home run of the season in Boston's 7-2 win over Houston on Thursday
David Ortiz crushed his first home run of the season to lead the Boston Red Sox to a 7-2 win over the Houston Astros.
Ortiz has been in blistering form since making his season debut last week following eight months out with a heel injury and his 3-4 night took his average above .500.
Clay Buchholz pitched 7 2/3 innings of two-run ball to become the first pitcher in the majors to five wins this season.
Robinson Cano hit a three-run homer as the New York Yankees overturned an early deficit to beat the Toronto Blue Jays 5-3.
Thursday's results
Pittsburgh 6 Philadelphia 4
Kansas City 8 Detroit 3 (10)
LA Dodgers 3 NY Mets 2
Boston 7 Houston 2
NY Yankees 5 Toronto 3
Washington 8 Cincinnati 1
Chicago Cubs 4 Miami 3
Chicago White Sox 5 Tampa Bay 2
Texas 2 Minnesota 1
Arizona 3 Colorado 2
Baltimore 10 Oakland 2
Seattle 6 LA Angels 0
Toronto Jumped into an early 3-0 lead but homers from Vernon Wells, Cano and Francisco Cervelli made a winner of Hiroki Kuroda, who surrendered three runs in six innings.
Luis Valbuena hit a game-winning solo shot in the ninth as the Chicago Cubs rallied to beat the Miami Marlins 4-3.
Marlins lose again
Nate Schierholtz also homered as the Cubs overcame an early 4-1 deficit and inflicted a league-worst 17th defeat on the Marlins.
Gio Gonzalez allowed just one hit - a Joey Votto home run - in eight innings as they Washington Nationals beat the Cincinnati Reds 8-1.
Carlos Peguero - in his first at-bat of 2013 - and Kyle Seager went yard to lift the Seattle Mariners to a 6-0 victory over the Los Angeles Angels.
Pinch hitter Garrett Jones hit a game-winning two-run double to hand the Pittsburgh Pirates a 6-4 victory over the Philadelphia Phillies.
Alex Gordon hit a grand slam in a five-run 10th inning as the Kansas City Royals beat the Detroit Tigers 8-3.
Elvis Andrus and Nelson Cruz drove in the runs as the Texas Rangers beat the Minnesota Twins 2-1, while Paul Goldschmidt hit a two-run homer in the Arizona Diamondbacks' 3-2 win over the Colorado Rockies.
The Los Angeles Dodgers beat the New York Mets 3-2, the Chicago White Sox saw off the Tampa Bay Rays 5-2 and the Baltimore Orioles hammered the Oakland Athletics 10-2.