MLB: Atlanta Braves win ten in a row after beating Kansas City Chiefs
Last Updated: 17/04/13 8:16am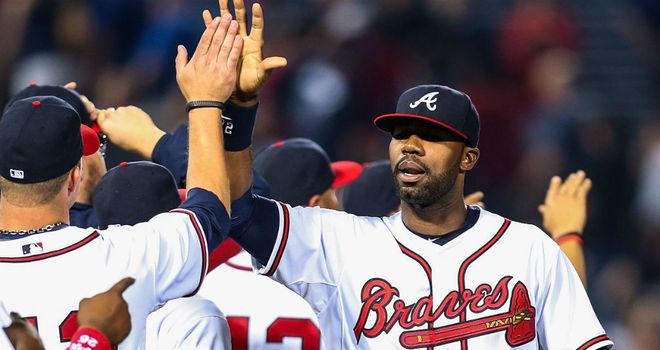 Jason Heyward celebrates a win for the Atlanta Braves
A 4-0 eighth inning, when Jason Heyward, Justin Upton and Dan Uggla all homered, proved decisive as the Atlanta Braves continued their impressive start to the MLB season against the Kansas City Royals.
The Braves won 6-3 at Turner Field, their 10th win in a row, to maintain their strong position at the top of the National League East.
Adeiny Hechavarria's three-run homer was the highlight as the Miami Marlins levelled their three-game series against the Washington Nationals with an 8-2 success.
Matt Wieters hit a solo homer and Jake Arrieta struck out seven in five innings as the Baltimore Orioles downed the Tampa Bay Rays 5-4, while the Chicago White Sox edged victory at the Toronto Royals 4-3.
A seven-spot in the top of the second inning paved the way for the Boston Red Sox to secure a 7-2 success at the Cleveland Indians.
Robinson Cano connected for a mammoth three-run homer that landed in Yankee Stadium's right-center-field bleachers, in the Yankees' 4-2 victory over the Arizona Diamondbacks.
Derek Holland pitched seven scoreless innings as the Texas Rangers overcame the Chicago Cubs 4-2 at Wrigley Field, while the Minnesota Twins were 8-6 winners against the LA Angels.
Yuniesky Betancourt's grand slam was the exclamation point on an eight-run third that carried the Milwaukee Brewers to a 10-8 victory over the San Francisco Giants, while the Houston Astros edged a tight contest at the Oakland Athletics 4-3.
A 4-0 first inning set the tempo as the San Diego Padres eased past the LA Dodgers 9-2, while the Detroit Tigers downed the Seattle Mariners 6-2.
Snow caused a delay of more than two hours in Denver - but when play got under way at Coors Field the players put on an entertaining spectacle as the Colorado Rockies defeated the New York Mets 12-8 in the first part of their double-header. The Rockies took advantage again in the second instalment, winning 8-4.
The weather was the winner at Pittsburgh, where a storm at the end of the second inning ended proceedings with the Pirates leading 4-2. The game was eventually called off after an 84-minute delay - a date for the rearranged fixture has yet to be confirmed.
And the Philadelphia Phillies and Cincinnati Reds will resume on Wednesday after heavy rain forced their game to be suspended in the middle of the ninth inning, with the contest scoreless.