London Welsh coach Lyn Jones is hopeful of a positive outcome when the club appeals a five-point deduction
Last Updated: 22/03/13 7:51am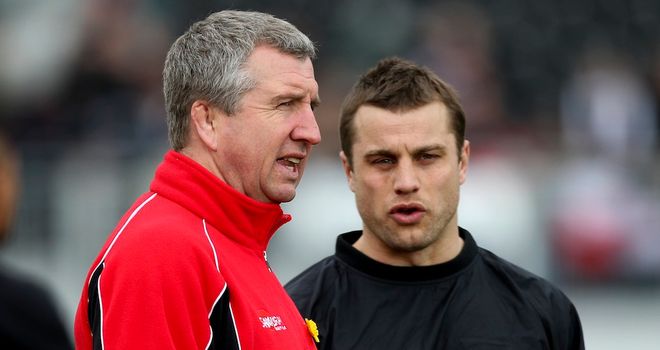 Lyn Jones (left) with Tyson Keats
London Welsh head coach Lyn Jones remains hopeful of a positive outcome when the club appeals their five-point deduction in London today.
The Exiles were docked the points, fined £15,000 and had a further five-point penalty suspended for fielding an ineligible player, Tyson Keats, in their first 10 matches of the season.
But London Welsh maintain they should not be held to account for the criminal activity of former team manager Mike Scott, who gave false information to both the club and the RFU over Keats' visa.
Scott made a mistake when he applied for an ancestry visa for the New Zealand-born scrum-half, but instead of re-submitting the form he attempted to cover it up.
And Scott then told the club a visa had been granted and he submitted false documents to the RFU, including a forged passport, in a bid to pass Keats off as having been born in England.
The original verdict described Scott, who has accepted a police caution, as a "rogue employee" but it also criticised both London Welsh and the RFU for not being more vigilant.
Jones said: "We were surprised and disappointed by the original judgement," said Jones, who led London Welsh to four victories in those 10 matches.
"I am aware of how honourable the people who run London Welsh are. I am pretty confident that it will come to a sensible conclusion."