Sky Sports Living for Sport winner Wayne Instrell is amazing role-model
By Oli Burley - @SkySportsOli. Last Updated: 19/03/13 8:25am
Athlete Mentor Maggie Alphonsi says Sky Sports Living for Sport Student of the Year Wayne Instrell is "a genuine inspiration".
"I'm convinced Wayne will be a success at whatever he turns his hand to in the future."
Maggie Alphonsi
Bedford Academy student Instrell picked up the award at a special ceremony at Sky Studios on Friday after being chosen for the award from a shortlist of 12 regional winners.
The judges, who included Olympic gold medallists Jessica Ennis and Darren Campbell, praised the 16-year-old for his remarkable bravery and courage.
Instrell was removed from mainstream lessons after he was badly bullied at school and just when his confidence was returning he tragically lost his father.
Despite being unable to swim, he signed up for his school's Sky Sports Living for Sport swimming project and confronted, then overcame his fears to become a stronger person.
During a Sky Sports Living for Sport project visit, England rugby union international Alphonsi encouraged Instrell to learn more about new sports he could participate in.
Spurred on, he now not only plays rugby for the Bedford Blues youth team but he contributes to mainstream lessons, volunteers his time to the school's sports leaders and aspires to become a PE teacher.
Impressed
"Wayne's story is amazing," said Alphonsi. "It's brilliant to see how much his confidence has grown and how much he has developed as a person as a result of taking part in the Sky Sports Living for Sport.
"Like many of the pupils on the project, he found swimming very difficult but he tackled the challenge head on and made himself vulnerable to learn a completely new skill.
"I'm even more impressed with how his confidence developed after he lost his Dad, which hits any individual hard no matter how old you are.
"Now Wayne loves to get involved with everything and anything and he's returned to mainstream lessons, which is a fantastic turnaround."
Alphonsi, a flanker for Saracens and England, is one of over 70 Sky Sports Living for Sport athlete mentors who visit students participating in projects all over the UK.
Parallels
So far over a third of secondary schools have signed up to the free initiative, run in conjunction with the Youth Sport Trust, that aims to improve life skills and boost confidence through sports skills.
Alphonsi was not only impressed with the manner in which the students at Bedford Academy embraced the scheme's 'Six Keys to Success' - mental toughness, hunger to achieve, people skills, sports and life knowledge, breaking barriers and planning for success - but she felt a clear affinity with Wayne's story.
"I see many parallels with my own," she said. "Although I wasn't bullied at school, I did struggle because I didn't get on well with my teachers and I struggled to find motivation to study. I used to get into trouble quite regularly
"I came from a single parent family and lived in a really bad environment on a council estate where I was surrounded by people who got in trouble constantly.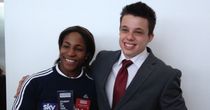 "My role-model was a teacher who introduced me to rugby and, much like Wayne, I absolutely loved it. Rugby taught me about respect and discipline and as a result I was a lot more responsive in school and focused really hard on my GCSE's.
"So I'm very proud of how far Wayne has come and that he's gone done the rugby route. When we first met he said he'd like to give it a go and I urged him to go down to his local rugby club in Bedford and thankfully he's taken to it really well.
"I'm convinced he will be a success at whatever he turns his hand to in the future."
Has Wayne's story inspired you to take up swimming? Then find out more about how to get involved at the Swimming in England website: www.swimming.org