NBA: Los Angeles Lakers hope to continue play-off push against Chicago Bulls
Last Updated: March 10, 2013 10:30pm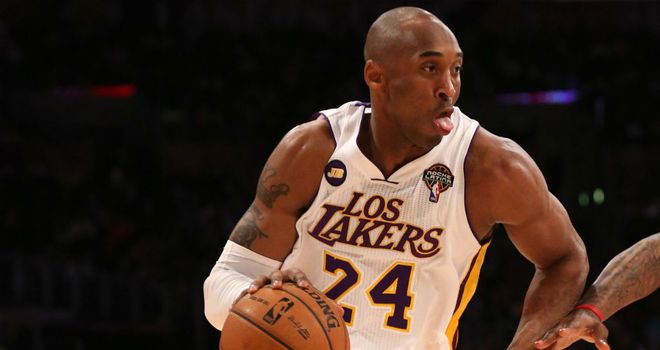 Kobe Bryant: On a rich vein of scoring form for the Los Angeles Lakers
The Los Angeles Lakers' hopes of reaching the play-offs will be given another boost if they defeat the Chicago Bulls at the Staples Center on Sunday.
The Lakers and Bulls face off in the second of Sky Sports' live NBA games on Sunday in a cross-conference match-up between two of the most famous franchises in the league.
After a dismal start to the season the Lakers are now hot on the heels of the Utah Jazz, who currently occupy the eighth and final play-off spot in the Western Conference.
The Lakers have won seven of their last nine games, with Kobe Bryant stepping up his already-impressive scoring while big-name off-season recruit Dwight Howard finally looks to be settling in to his new surroundings.
Fellow stars Steve Nash and Metta World Peace will also be on hand against a Bulls side who are well on their way to qualify for the post-season despite the absence of 2010-11 MVP Derrick Rose, who continues to recover from a serious knee injury.
France international Joakim Noah, Luol Deng of Great Britain and Italian Marco Belinelli have stepped up to the plate to raise expectations in the Windy City.
Deng is set to guard Kobe Bryant on Sunday and Brian Scalabrine, who played alongside the small forward in Chicago, says that Britain's premier player will relish the contest.
"Luol Deng forces guys into taking shots that he wants them to take. He will make Kobe take a lot of contested two-point shots, he won't get beat to the basket," Scalabrine said.
"At the end of the day he's not saying, 'I'm going to shut Kobe down'. What he is going to do though is make Kobe Bryant shoot maybe 10 to 12 contested two-point shots off the dribble.
"If Kobe Bryant is feeling unbelievable on the day he might make some, but it doesn't mean it's bad defence. (Deng) is one of the most intelligent defensive players in terms of making the offensive player do what he wants them to do."
Chicago Bulls (35-27) @ Los Angeles Lakers (32-31). Sunday, 7.30pm, Sky Sports 3 HD.