Marcel Hirscher won gold for Australia in the slalom at the World Championships
Last Updated: February 17, 2013 2:31pm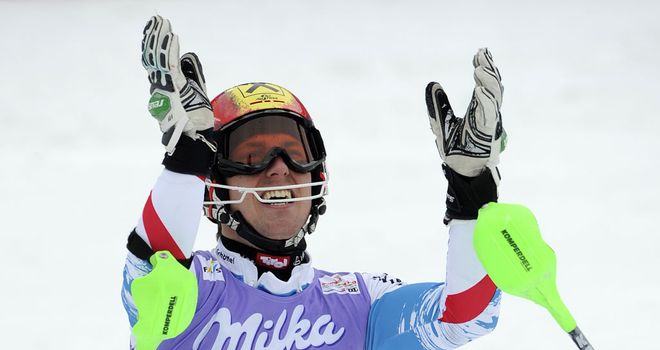 Marcel Hirscher: Delighted the home fans in Schladming
Marcel Hirscher delivered for Austria when they needed him most as he took gold in the final event of the World Championships in Schladming.
With the host nation lacking a single gold medallist in this year's event, all eyes were on the 23-year-old Hirscher in the men's slalom.
He led after the first descent by 0.28secs from Germany's Felix Neureuther but the pressure mounted as team-mates Benny Raich and Manfred Pranger blew their chances with mistakes.
Ivica Kostelic, ninth at halfway, set the mark with quick second run but Andre Myhrer of Sweden bettered his time with only the top five left.
The penultimate Austrian, Mario Matt, set the fans alight by taking over the lead by a wide margin, but he was quickly relegated by Neureuther to set up a grandstand finish.
It was by no means Hirscher's slickest descent of the season, but he held his nerve entering a cauldron of 40,000 fans at Schladming to bring home gold by 0.42secs, with Matt third at 0.65.
"It was very difficult," said Hirscher. "It was fierce. What can I say, it's great!
"The atmosphere was sensational, it was great. But I was so focused and just tried not to make a mess. It was anything but easy."
Ted Ligety, who won three gold medals in Schladming, was unable to bid for an unprecedented fourth after skiing out in the first run.