San Francisco 49ers in Super Bowl XLVII after beating Atlanta Falcons at Georgia Dome
By Paul Higham Twitter: @SkySportsPaulH. Last Updated: 23/01/13 8:39pm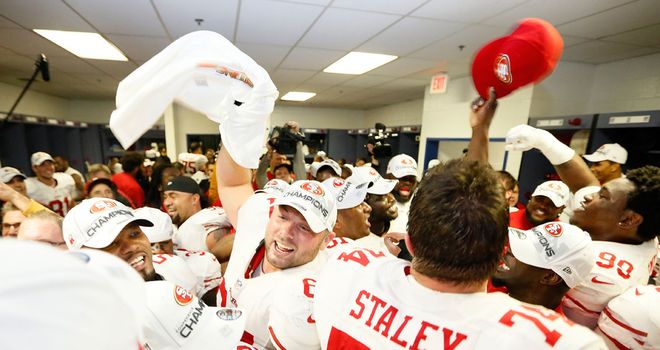 Joe Staley and the 49ers celebrate
American Football Betting

American Football Betting

Bet with Sky Bet
The San Francisco 49ers feel they have proved their point as they put last year's bitter disappointment to rest by making it all the way to the Super Bowl in New Orleans.
12 months ago the Niners lost the NFC Championship game at home to the New York Giants in overtime, but they made no mistake this year after a superb comeback win against the Falcons in Atlanta.
Jim Harbaugh's side produced the biggest comeback in NFC title game history coming from 17-0 down to win in the Georgia Dome, and he will now face his brother John and the Baltimore Ravens in New Orleans on February 3.
"It feels good to finally get last year behind us. Up until this moment, all of us were still feeling last year, whether they would say it or not. We felt that loss."
Donte Whitner
The 49ers felt they had the best team in the NFC last year, and after showing it again this year they are hoping to start a new dynasty in the form of the old Joe Montana days, when San Francisco went on to win five Super Bowl titles.
Back in the big game for the first time since 1995 on the back of a first play-off win on the road since 1989, a sixth would equal Pittsburgh as the most successful Super Bowl team, but for now the players are just happy to get over last season's disappointment.
"Today was a different game than last year's NFC Championship Game, we came up with some big stops, big drives and got the job done," said Pro Bowl left tackle Joe Staley. "It was a hard-fought battle; we stayed within the offense and were able to make plays"
Staley was drafted in 2007 and having played in some lean times at Candlestick Park, is now thrilled to be thriving under Harbaugh and new quarterback Colin Kaepernick, who made just his ninth start in the NFL in Atlanta.
"It's great to see the transformation," Staley added. "The guys who've been here for a while, the draft class I came in with, we went through some hard times, some different coaches, but we have something great going here.
"The coaching staff is unbelievable, some of the plays we have are unbelievable. Our time is now and our opportunity is right now."
Biggest comebacks in NFC Championship
2006: Colts - 18pts v Patriots
2012: 49ers - 17pts v Falcons
1998: Falcons - 13pts v Vikings
2009: Colts - 11pts v Jets
Kaepernick attracted plaudits all round for his composed performance - he displayed more of his passing skills than his power running skills but that versatility and knowing when to use it could make him a huge star of the NFL.
QB gamble
Harbaugh took a big gamble picking the second-year man ahead of the steady Alex Smith, but Kaepernick has proven him right with his displays so far
Most notably against Atlanta where his 127.7 passer rating ranked fifth in 49ers post-season history - no mean feat given the history of Montana and Steve Young.
"He played great, I don't know any other words to say it, it was a great performance by the quarterback," Harbaugh said of his young triggerman.
Safety Donte Whitner says the players were still suffering from last year's loss right up until they put things right in Atlanta.
"It feels good to finally get last year behind us," said Whitner. "Up until this moment, all of us were still feeling last year, whether they would say it or not. We felt that loss."