Minstermen to honour McGurk
Last Updated: 04/01/13 2:52pm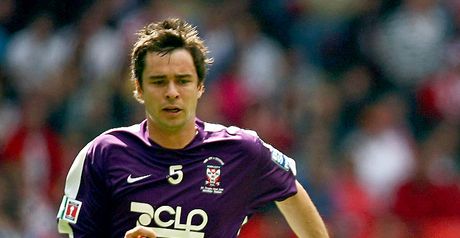 McGurk: York's longest-serving player
York will make a special presentation to defender David McGurk ahead of Saturday's home game with Exeter.
McGurk, 30, in his benefit season, is the Minstermen's longest-serving player after making his debut for them while on loan from Darlington in September 2004, and will make his 300th appearance for the club on Saturday.
"David has been a magnificent servant to the club. He has always given 100 per cent and it's a very well-deserved presentation for a player who has reached a fantastic milestone," York media centre manager Phil Howden said.
"It will actually officially be David's 299th appearance for York because the game against Chester during the 2009/10 season was expunged, but the club wanted to make the presentation at Bootham Crescent rather than at Cheltenham next week."
McGurk returned from almost a year out with a serious knee injury in the goalless draw at Fleetwood over the Christmas period when he could have been forgiven for thinking he had played his last game for the club.
"The manager chose to send on young Tom Allen for the injured Chris Doig instead of him in the home game against Bristol Rovers and it didn't look good for him - to be overlooked in favour of a 17-year-old who had just been handed his first professional contract," Howden added.
"But David came back in at Fleetwood and has played his full part in helping to keep two clean sheets, so he's back in on merit."