A running training programme would help boost Chelsea striker Fernando Torres, says Darren Campbell
Last Updated: 30/11/12 12:33pm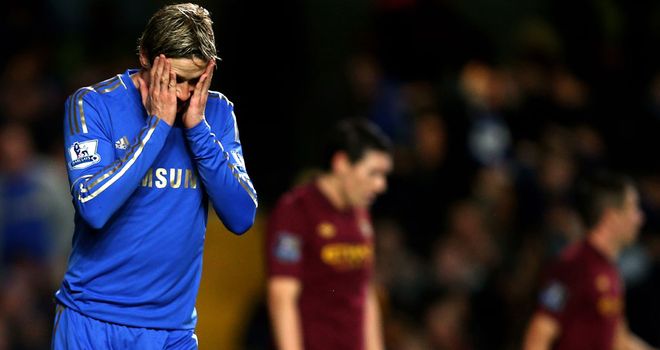 Rafa Benitez will be hoping Fernando Torres can rediscover his scoring touch
A running training programme would help boost Chelsea striker Fernando Torres, says Darren Campbell.
The Spanish striker scored 81 goals in 142 games for Liverpool under the guidance of Rafa Benitez, but has struggled at Chelsea with 19 goals since his £50m move from Anfield nearly two years ago.
With Chelsea's new interim boss Benitez now over-seeing Torres again, it is hoped the under-fire 28-year-old will rediscover his old form.
Benitez insists the confidence of Torres can be generated through extra gymwork and providing "instructions of what he can do in a different way to improve him and the rest of the team a little bit physically".
But Campbell, Olympic relay gold winner in Athens in 2004, told the Daily Telegraph: "Just put in a nice two-week training programme that I think would definitely bring the majority of his speed back.
"It's something that is best done in pre-season but I think Fernando just needs two weeks when he hasn't got to worry about playing on the Saturday.
"I'm sure I could fix him. It doesn't have to be a lengthy process because these guys are already extremely fit. That's the great thing about working with footballers and rugby players.
"You're not having to worry about the base fitness so you just go in and teach the raw speed.
"In the case of Fernando, I think he would also probably need to do a bit of weightlifting as well as the running and the speed drills to put some power back into his muscles.
That's why sprinters lift weights, to gain that explosive speed and power."