Iron appeal Reid dismissal
Last Updated: 19/11/12 5:27pm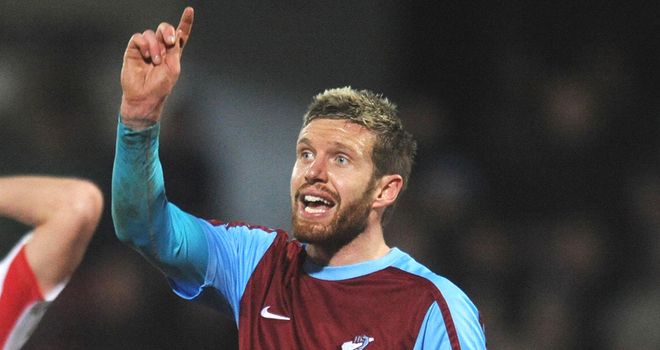 Reid: Facing a three-match ban
Scunthorpe have launched an appeal against the dismissal of skipper Paul Reid in the weekend draw with Notts County.
The Iron central defender was shown a straight red card by referee Eddie Ilderton following his aerial challenge with County's Yoann Arquin midway through the second half.
"We've collectively looked at it and I think it's worth a shot," manager Brian Laws told the club's official website. "But having said that, it's a small one. If we're successful then it will be brilliant because we'll have our captain back.
"But it's a case of having to rely on two or three people's opinions and whether they disagree with the referee. It's a very hard one to turn over, but I believe there was no maliciousness out there and we should at least try and appeal it."
Reid, who has only recently returned from a long-term hand injury after missing the first three months of the season, will sit out an automatic three-game ban, starting with the home clash with Bury on Tuesday night, if the appeal is unsuccessful.