Roberto Martinez urges Wigan to stand up to Tottenham challenge
Last Updated: November 3, 2012 2:23pm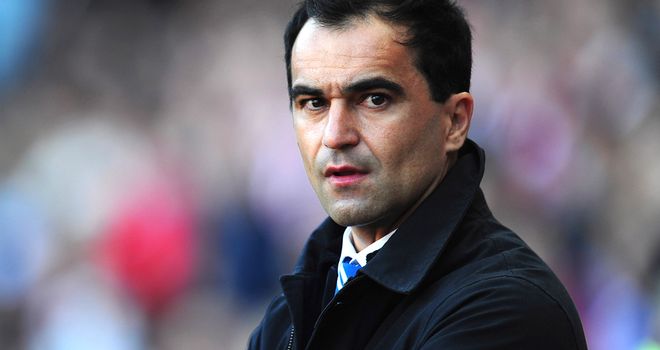 Roberto Martinez: Confident ahead of Wigan's trip to Tottenham
Roberto Martinez reckons Saturday's trip to Tottenham is the perfect chance for Wigan to prove they have turned a corner this season.
Last week's victory over West Ham was a first in seven Premier League games and gave the Latics a four-point cushion on the bottom three.
And while midweek brought a shock League Cup defeat to Bradford for a much-changed line-up, Martinez is confident his side are on an upward curve.
He said: "Spurs will test us to the limit and it will be a fantastic challenge for us to see how we've addressed our problems.
"The West Ham game was a key moment in our season and now we need to show that consistency in the weeks ahead.
"In football you play to win points and when you get into a little bit of a negative run in terms of points, even though the performances are good, you don't want to create a problem when there isn't one.
£5 free every week
Sign-up with Sky Bet they will not only give you a completely free £10 bet, but also a free £5 bet every week for the rest of the season! Find out more
"That game was probably the moment we had to win to get away from those thoughts. Sometimes you're so desperate to win you forget how you're going to win and it becomes a big mountain.
"And it was the complete opposite. Now is the moment to carry on that level of performance."
White Hart Lane has not always been the best venue for Wigan, notably when they were beaten 9-1 in November 2009, but they bounced back the next season with a 1-0 victory, their first win at the ground.
Martinez said: "We've been mentally very strong to cope with the previous results that we had at White Hart Lane.
"I think we're well over that, now it's more a case of being able to produce the level of football we've had at home away from home for the duration of the 90 minutes.
"Our performance at Southampton was a very good performance. We need to learn a little bit from the last two performances against Sunderland and Swansea, and there are many things we need to get right.
"Spurs will test us to the limit and it will be a fantastic challenge for us to see how we've addressed those problems."