Sam Querrey's Paris Masters win over Novak Djokovic surprised Peter Fleming
Last Updated: 31/10/12 5:30pm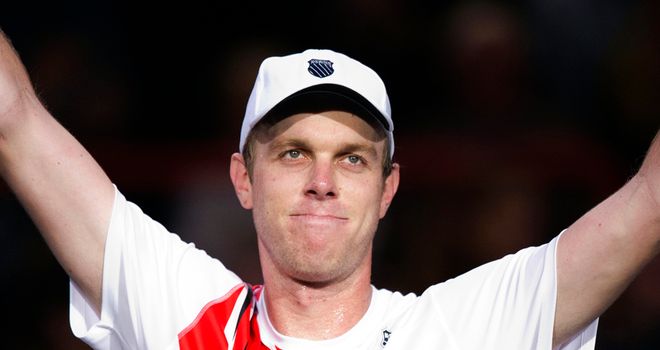 Querrey: the American shocked Djokovic in Paris
Novak Djokovic's defeat to Sam Querrey in the second round of the Paris Masters was a bit of a mystery, Peter Fleming told Sky Sports.
The Serbian, who is set to end the year as world number one for the second season in a row, took the first set 6-0 and at 2-0 up in the next seemed on course for a comfortable win.
However, American Querrey battled back to win the second on a tie-break and then held his serve in the third to edge out this year's Australian Open winner 0-6, 7-6, 6-4.
"Midway through the second set Querrey began to get a little more aggressive, took control of the rallies and then Djokovic started to feel the brunt of his efforts."
Peter Fleming
"It was extraordinary that Queerey managed to turn it around," said Fleming. "At 6-0 and 2-0 down he was all over the place. He had no idea and Djokovic appeared to be playing as well as he could play. Now we're scratching our heads as to what really happened."
Fleming pointed out Djokovic was playing fine tennis until midway through the second set when Querrey took charge.
"Djokovic appeared physically to be hurting towards the end but when you're up 6-0, 2-0 and riding high - and he hadn't missed a ball - I don't know how you go from there to four or five games later it all being about Querrey," he said. "We'll have to wait to hear what was going through Novak's mind.
"We've seen so many times Djokovic cover the court beautifully and hit the right shot at every turn and that was the case for the first set and a half in this match. At that point Querrey was almost saying: 'What do I need to do to win a point?' There was almost nothing he could do. Djokovic was in charge of the baseline for every rally, apart from Querrey's serve.
"But midway through the second Querrey began to get a little more aggressive, took control of the rallies and then Djokovic started to feel the brunt of his efforts. At that point, I don't think anyone thought Querrey would win that set, though."
Challenge
However, Querrey did win that set and took the third for a memorable victory.
The American's backhand - one of the weaker shots in his repertoire - was even on song, and now his greatest challenge will be motivating himself for his third-round clash against either Milos Raonic or Jeremy Chardy.
"Querrey's backhand is improving," said Fleming.
"So much of tennis is not about how well you play in the first round it's about how well you play when the pressure is on. That's what the top players are so good at, putting you under pressure.
"That's when a shot like Querrey's backhand is not as reliable as his forehand - but he came up with some good ones though, that's for sure. Today (Wednesday) was the match of his life and in the biggest moments he came up with some great shots.
"He'll have a good night and will be thrilled with his performance. Sometimes it's difficult to raise your emotional level again for the next match after a big win and we'll see how he gets on in his next match.
"But maybe there's just a little bit of hope for North American tennis after all."