Martin O'Neill admitted Sunderland deserved to lose 1-0 to Middlesbrough
Last Updated: 31/10/12 7:32am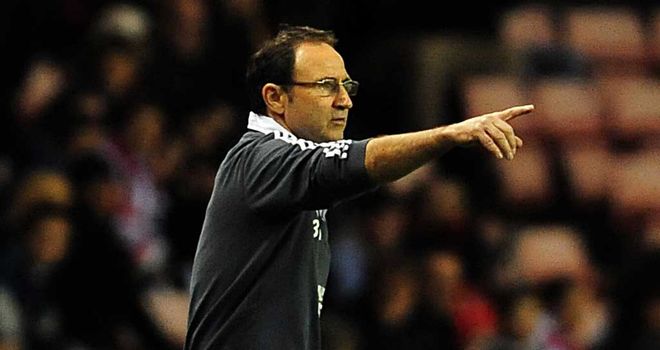 Martin O'Neill: Sunderland performance not good enough according to boss
Sunderland manager Martin O'Neill admitted his side had got what they deserved after losing 1-0 at home to Middlesbrough in the fourth round of the Capital One Cup.
Scott McDonald scored the winner for Boro in the 39th minute at the Stadium of Light and the Black Cats lacked a cutting edge as they failed to find an equaliser.
"It was an opportunity for us to try and get into the quarter finals of the competition and we didn't play well enough and we didn't deserve to go through," said O'Neill.
"It was really disappointing. We started off brightly in the game but Middlesbrough forced their way into the game and in truth we didn't create enough.
"Eventually we didn't have enough confidence but not at the start of the game and not on the back of a strong draw on Saturday against Stoke.
"I thought it was quite the opposite but if you're not playing well enough that can drain you and you can start playing the wrong options. Collectively we were not good enough to go through and that's very disappointing indeed.
"Tonight there must have been six occasions I can recall where we've had really good position in the penalty area and we've either overrun it or misjudged the next ball through and the move evaporates. That's disheartening.
"I think that is unusual. Usually the teams I have managed have been able to score goals and naturally I'm disappointed but that's my responsibility."