Dundonnell delights Doyle
Charlton charge in good shape
Last Updated: 30/10/12 6:21pm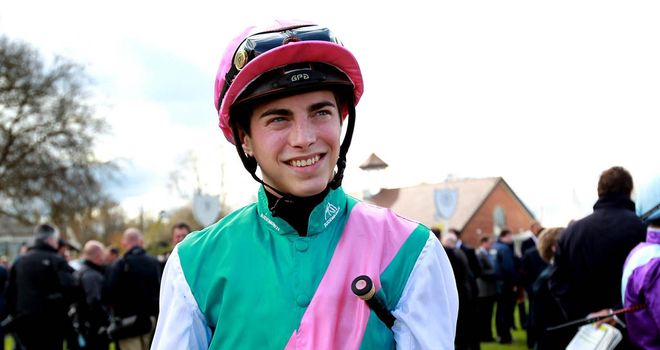 James Doyle: Happy with Dundonnell
James Doyle was the new kid in town as far as Breeders' Cup jockeys were concerned when racing professionals from both sides of the Atlantic gathered for morning trackwork at Santa Anita Park on Tuesday.
Doyle rolled into Los Angeles ahead of the majority of his peers on the express wish of Roger Charlton, trainer of his Breeders' Cup Juvenile Turf mount Dundonnell.
Charlton was keen for Doyle, who has ridden as first jockey to the Beckhampton handler for the first time this season, to have as much time as possible to familiarise himself with the unique Santa Anita turf course.
Doyle said he was "delighted" with Acomb Stakes winner and Champagne Stakes runner-up Dondonnell after breezing him at 7.30am when the turf track opened this morning.
Dundonnell was easy to pick out with a distinctive 'Frankel'-style cross-noseband and sheepskin bobble.
Doyle said: "The colt seems to have travelled over well and this morning was his first time out of quarantine.
"All I really wanted to do was give him some light exercise and allow him and myself to get an early feel of the place.
"We have a good draw in six and I'd hope to be handy as there are quite a lot of runners.
"With 14 (horses) charging down to the first turn it might get quite messy."
Doyle was visibly lit up by the sheer beauty of Santa Anita, with its art deco stands and the alluring San Gabriel mountains in the background.
He said: "At Doncaster last time (in the Champagne Stakes), I needed to get him back and with some cover but it didn't help that Richard Hughes bagged out and got the rail on Toronado.
"I was getting cover from Frankie Dettori's horse (Tha'ir) but it didn't help that we were four lengths off the pace and when I closed in on Toronado it was too late because he'd enjoyed the run of things.
"However it was pleasing that we were closing all the way to the line.
"This weekend I need Dundonnell to be relaxed just behind the leaders.
"I think we'll be getting there fairly late."