David Haye must wait until December to find out if Vitali Klitschko will face him
Last Updated: October 30, 2012 4:27pm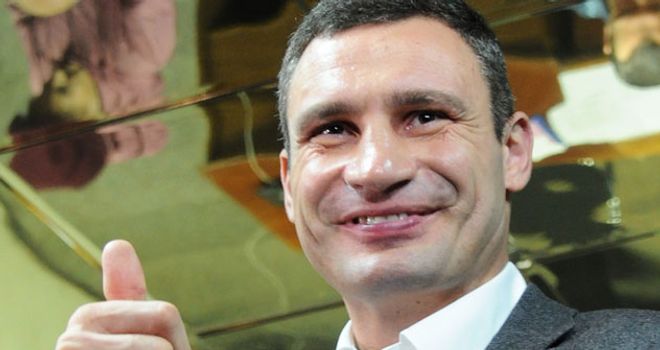 Vitali Klitschko: To decide future in December
David Haye will find out in December if a possible fight with Vitali Klitschko can go-ahead next year.
Haye remains hopeful he will challenge Klitschko for his WBC heavyweight title in the future, but the 41-year-old is considering retirement as he is pursuing a career in politics.
Klitschko's UDAR party was elected into the Ukrainian parliament with 13% of the vote and he will now wait for the formation of an opposition coalition before deciding whether to hang up his gloves.
Bernd Boente, manager of Vitali and his brother Wladimir, said: "Vitali will not make a decision before December or the beginning of next year.
"He's under no pressure. The WBC see him as their champion and he only had a fight at the beginning of September. No champion will fight twice in three months.
"Whether Vitali fights on depends on the political situation and the coalitions formed.
"His party was only founded two years ago but it received 13% of the vote. He's in parliament now as the party leader.
"We will have a clearer picture of the political landscape in mid-December and after that Vitali will make a decision."
Boente played down reports that the Ukrainian brothers have signed a five-fight deal with broadcaster RTL and was dismissive about a challenge by Haye, but the British fighter remains one of the biggest names in the top division.
"It's always the same with Haye, we don't take him seriously. He's a like a little dog that barks all the time," he said.
"When the big dog - Vitali Klitschko - comes around the corner he runs away. Look at what happened against Wladimir, we don't care about it him any more. He talks but who cares?"