Adrian Newey revealed a broken skid block caused sparks to fly on Sebastian Vettel RB8 in closing stages in India
Red Bull technical chief admits problem could have been more serious
Last Updated: October 28, 2012 9:24pm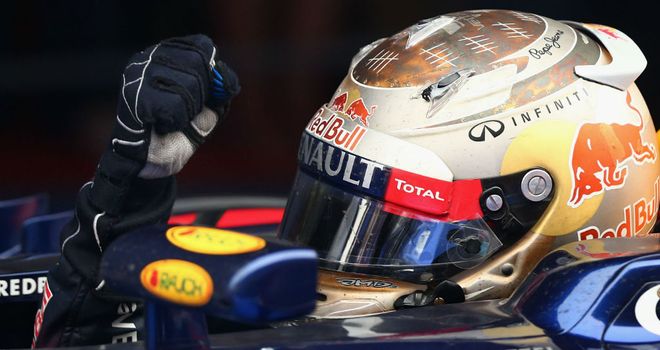 Sebastian Vettel: Survived a late scare to win
Formula 1 Betting

Formula 1 Betting

Join the Free Bet Club
Adrian Newey admitted that the Red Bull pit wall did have some concerns that runaway Indian GP winner Sebastian Vettel could have run into problems after the front skidblock on his RB8 broke in the closing stages.
With a comfortable lead of over ten seconds, Vettel ran into an unexpected late scare when sparks started flying from the underside of his car as the right-front part of the 'teatray' started scraping on the ground.
Although he comfortably saw out the remaining laps to win his fourth straight race, and the issue isn't expected to cause any problems in post-race scrutineering, Red Bull's technical chief Newey revealed they did have to conduct some telemetry checks to make sure all was okay.
"It looks Seb ran wide and probably knocked one of the front skids off which in itself isn't a problem. The danger would be if it went under a rear tyre [and] caused a puncture," he told Sky Sports F1.
"So we had a good look at the pressures, make sure that everything looked okay, seemed fine."
A more fundamental problem on Mark Webber's sister RB8 saw the Australian lose the use of KERS in the closing stages, costing him second place to Fernando Alonso.
Newey confirmed: "We had some KERS problems with Mark's car which meant we had to keep turning the KERS off and that of course made him very vulnerable to first Fernando and then getting uncomfortably close with Lewis at the end."
Although Vettel ultimately won by nine seconds, his championship rival Alonso had already shadowed Webber for the entire race to suggest that Ferrari's race pace isn't that far adrift of Red Bull's.
Newey said the performance was typical of the Spaniard's never-say-die-approach.
"Fernando had very quick pace in the case, as he did in Korea," he said. "Fernando never lies down. He's such a great competitor and never gives up and he proved that again today."
And despite the short turnaround to next week's race in Abu Dhabi, and his own team's current unbeatable form, Newey also isn't taking anything for granted heading into the final three races.
"We've got a different circuit, a different nature, how you use the tyres," he added.
"We might not get the tyre window right, McLaren and Ferrari might do, and we don't know what development they're bringing so you can never relax, you can never take anything for granted."
Red Bull Team Principal Christian Horner joined his prized technical asset on Sky Sports F1 and, while praising Vettel's latest impressive win, also insisted that nothing was won yet.
"It is a fantastic performance. Mark was a bit unlucky today, but Sebastian drove a great race," Horner said.
"I don't think anyone else has led a lap in India in the last two years which is quite a remarkable achievement. But now it is important to focus on the next race and keep the momentum rolling.
"Abu Dhabi is a different challenge and we have to focus on the challenges of that circuit and once again get the most out of the cars and the drivers and the other elements."