Hearts manager John McGlynn wants proposed share offer to succeed
Last Updated: October 26, 2012 5:01pm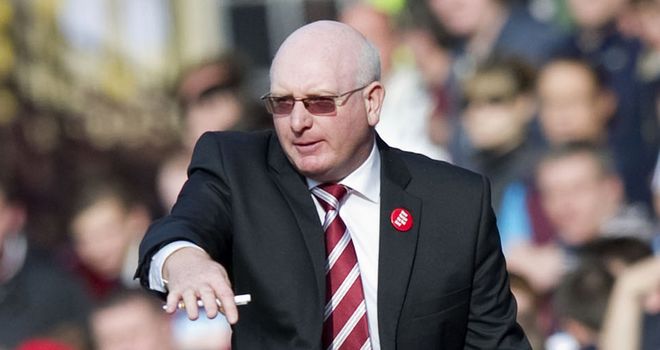 John McGlynn: Hopes the proposed share offer is a success
Hearts manager John McGlynn hopes there will be an end to the wage delays at Tynecastle as a result of the proposed share offer.
The Scottish Cup winners claim that, if fully subscribed, the share offer, which opens on Saturday, could raise up to £1.79million, with supporters taking control of 10 per cent of the club.
Hearts, who are under a 60-day transfer embargo following failure to pay their players and staff on time in September and October, also suggested future fan ownership is possible.
McGlynn, who was briefed on the share issue by managing director David Southern earlier this week, said: "Whether it's the last throw of the dice or not, I'm not sure. You would need to ask the board that.
"I'm the football manager. I've got to try to take care of the football side of things.
"Look upon it as a chance to buy into the football club and produce money that will develop the youth and help us to continue in the near future as well.
"If it helps us in the short term continue to pay the wages then that would save all these issues cropping up and penalties being put on the football club, which makes it more difficult to win football matches."
Finances have been tight at Tynecastle since majority shareholder Vladimir Romanov revealed he was disillusioned with football and four times last season wages were delivered late, the issue rearing its ugly head again in the last two months.
Speaking ahead of the SPL clash at home to Ross County, McGlynn added: "We're very hopeful the Hearts fans will buy into it. It's difficult times, so Mr Romanov's put up 10% of his shares for the fans to take up.
"We look upon it very positively and optimistically."
Hearts were this week issued with a player registration embargo until December 23rd by the SPL after admitting to failing to play all of their players and staff on schedule.
McGlynn insists the impact of the sanction is limited, saying: "We could sign players in August and we didn't do it, so it hasn't made a big difference to me."