Amy Ryan goes for gold
Apprentice jockey in line to receive Gold Award
Last Updated: October 24, 2012 3:57pm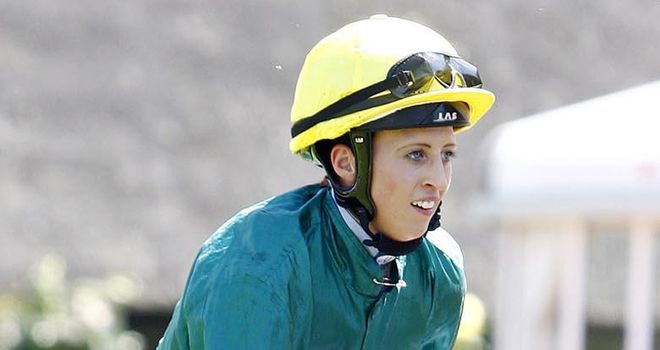 Amy Ryan: In contention for two awards
Young jockey Amy Ryan is poised to claim not one but two 2012 jockeys' championships when the Flat turf racing season draws to a close in just over a fortnight.
Not only is the 23-year-old in pole position for the apprentice jockeys' title but she is also in front in the inaugural Prolinx Lady Jockeys' Championship.
While her lead in the apprentices' race will make her difficult to catch as the season come to a conclusion, Hayley Turner is hot on her heels for the ladies' title - less than one percentage point adrift in the winners-to-rides strike rate that determines the championship.
After going past 30 winners for the season earlier in the campaign, Amy entered the gold award category of the Lady Jockeys' Championship and headed Hayley who was the early leader.
The contest - sponsored by business IT solutions provider Prolinx Ltd - has been running since March.
Laura Barry currently leads the silver award, while Hannah Nunn is in front for the bronze section.
The three awards enjoy prize-money of £5,000, £3,000 and £1,000 respectively.
First Ever
Andy Weller, Managing Director of Prolinx Ltd, who also sponsored the 'Lady Jockey of the Year' award at the Stobart Lesters earlier this year, said: "We are delighted with the first ever Prolinx Lady Jockeys' Championship. It has been a hugely exciting contest and we are now looking forward to the climax at Doncaster Racecourse on Saturday 10 November, when the flat racing season on turf ends."
Paul Struthers, Chief Executive of the Professional Jockeys Association, said: "The Prolinx Lady Jockeys' Championship reflects the impact that has been made by female jockeys in recent years and rewards their growing influence in the sport."
Leading Lady Professional Jockeys (figures correct - end of 23 October 2012)
Gold award (30+ winners)
Amy Ryan 40/342 (11.7%)
Hayley Turner 59/546 (10.8%)
Cathy Gannon 41/409 (10.0%)
Silver award (10-29 winners)
Laura Barry 10/61 (16.4%)
Amy Scott 13/102 (11.7%)
Natasha Eaton 10/97 (10.3%)
Leonna Mayor 10/97 (10.3%)
Bronze award (1-9 winners)
Hannah Nunn 6/28 (21.4%)
Nicole Nordblad 9/73 (12.3%)
*Winners/rides (strike rate)