No Excel boost for Frankel
Frankel could fall short of Dancing Brave
By Ian Ogg. Last Updated: October 23, 2012 12:46pm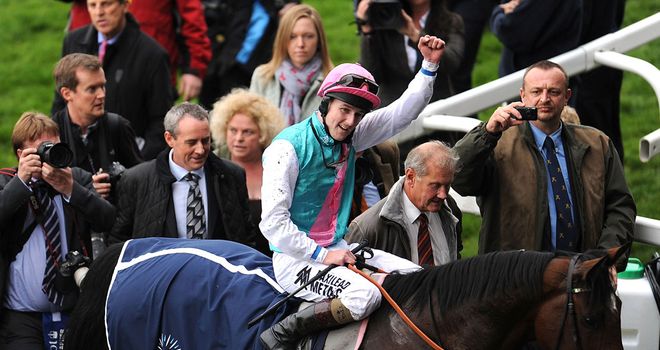 Frankel: Currently rated inferior to Dancing Brave
Excelebration's easy victory in the Queen Elizabeth II Stakes may not have been sufficiently impressive to have an impact on Frankel's final rating.
Sir Henry Cecil's retiring superstar has been widely acclaimed as the best horse to grace a racecourse yet he currently languishes 1lb behind Dancing Brave in the official ratings on 140.
The testing conditions that prevailed at Ascot for British Champions Day weren't conducive to producing the type of scintillating performance to which we've become accustomed although the four year old may have satisfied those who believe in the old maxim that good horses can win on any ground.
Frankel's performance in beating Cirrus Des Aigles by a length and three quarters wouldn't, in itself, be enough to lift his rating beyond that magical mark of 141 but there were hopes that the earlier victory of Excelebration would aid his cause.
Second Fiddle
The QE II winner has so often been forced to play second fiddle to his nemesis yet has proved himself to be a star in his own right since the Galileo colt has stepped up in trip with back-to-back Group One victories in the Jacques le Marois and on Saturday.
However, the BHA's official handicapper Dominic Gardiner-Hill poured cold water on those hopes in his blog on www.britishhorseracing.com saying: "A number of people asked me after the race if this was the proof that was needed to raise Frankel's rating from its current 140 - I don't believe it is.
"There is little doubt that using Dubawi Gold, and last year's QE II and this year's Lockinge as a guide, Excelebration had "levelled off" at around the 125 mark - and one thing Saturday's race proved was how below form he was in a literal reading of the Queen Anne form.
"On that occasion he beat Side Glance and Indomito a neck and a length - this time around he hammered them by nearly seven-and-a-half and ten-and-a-half lengths. This was a new and improved Excelebration but one that will still languish some 10-11lbs behind his old adversary."