Wales rugby league captain Craig Kopczak was positive despite defeat by France
Last Updated: 20/10/12 6:19pm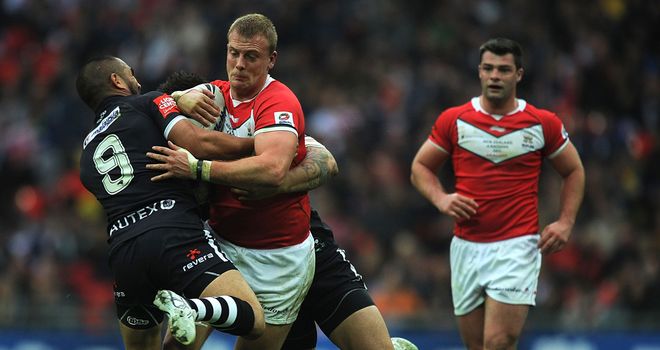 Craig Kopczak - Wales skipper positive in defeat
Wales captain Craig Kopczak felt there were plenty of positives to take from their 20-6 defeat by France in Lens.
Kopczak's side led for most of the first half, only to concede three quick tries just before the break, and they were unable to recover from those scores to get back into an increasingly testy game.
"You saw a lot of characters out there today," Kopczak said. "I thought we battled hard.
"We knew it was going to be tough and we're just a bit disappointed (with our performance) at the back of the first half, when we gave them too much possession and they scored the tries on the back of it.
"We came out in the second half and put real pride in our shirts. We'll be working on our defence and trying to keep hold of the ball and hopefully we can rectify that for next week.
"It was a massive occasion here and we can take this experience into the England game."
France captain Olivier Elima said: "Once we got into the game we knew we would create opportunities. We managed to score three tries in the last five or 10 minutes and we knew we could do better in the second half.
"There were still plenty of errors but we're happy about the game. Wales were confident and they made plenty of comments before the game. We used those comments in the changing room and we came out firing."