Real Barca troubles
With the defences of both Real and Barca taking on a decidedly makeshift look, all the talk in Spain has been about how the big beasts will cope with their woes. Tim Stannard investigates...
By Tim Stannard. Last Updated: 19/10/12 11:59am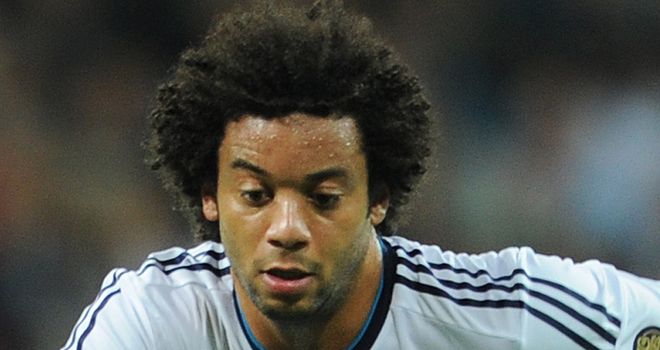 Marcelo: Admitted to being a little down after breaking a foot bone during a training session
"Woopfhhhh! Phlut!" That was the sound of any schadenfreude Real Madrid fans may have been smugly enjoying over Barcelona's defensive crisis that sees Gerard Piqué, Carles Puyol and Dani Alves all sidelined, vanishing in a big, puff of smoke.
This dramatic disappearance happened on Tuesday night with Alvaro Arbeloa limping off the Vicente Calderón pitch in Spain's 1-1 draw with France to leave José Mourinho's side three fullbacks down. Worse than that, it was the two left-backs who are in the knackers yard and the fella who can play there in a pinch. Very much 'darn to bare bones' in the Harry Redknapp category of crises.
The normally cheery chappy, Marcelo, admitted to being a little down after breaking a foot bone during a training session with Brazil that sees the ever-improving defender out for three months. Fabio Coentrao picked up a muscle injury with Portugal, news that was worsened with Arbeloa hobbling off to be replaced by Juanfran, a move which indirectly lead to France's equaliser. Both are set to be out for up to three weeks.
However, this mini-drama and the continuing absence of three Barcelona defenders has seen attentions in Spain turn to tactics rather than the usual nonsense - although there is still space for a fortnight-long slanging match between the two poles on whether Pepe can be considered dirty not. And the eternal topic of the curse of the 'FIFA Virus' where teams who have lots of talented, international players in the squad, lose these talented international players every now and again. Or worse, the upcoming African Cup of Nations which Marca describe as "stealing" players, as if swarthy men with butterfly nets will be doing the rounds of la Liga's stadiums in January.
FIFA virus
Barcelona are likely to continue giving Adriano a tour of the back four positions and generally making things up as they go long, but Madrid do have some big decisions to make. "I'm sure that all this has been going through the gaffer's head," said Xabi Alonso on Wednesday, pointing out quite reasonably that losing three full-backs in seven days is a tad unfortunate, FIFA Virus or no FIFA virus.
Option one is for Michael Essien to be stuck into the left-back slot with Sergio Ramos on the right, or perhaps a reversal of those positions. Option two sees a Castilla player being given a temporary promotion, although there is the sense that with the Portuguese, it will be anything but. Option three is a little desperate as it involves Raúl Albiol. An out of the box idea held by nobody but this column has Cristiano Ronaldo having the entire flank to himself, something that the Portuguese's ego might enjoy but his legs might have issues with.
Saturday's opponents for Madrid in the Santiago Bernabeu are Celta Vigo, a team who have returned to the Primera after five years in second division exile, and are feisty but don't have a strong enough defence to withstand a home side attack that's still as potent as ever. The same can't be said for Borussia Dortmund, the opponents in the UEFA Champions League on Wednesday night in a country where Real Madrid rarely have a good time of it. Barcelona are at Deportivo, a team who started the campaign looking fertile and vibrant but now appear to be quite, quite awful. It would take a disaster of enormous proportions to lose this particular tie in Galicia, but if Alex Song is at centre-back, anything is possible.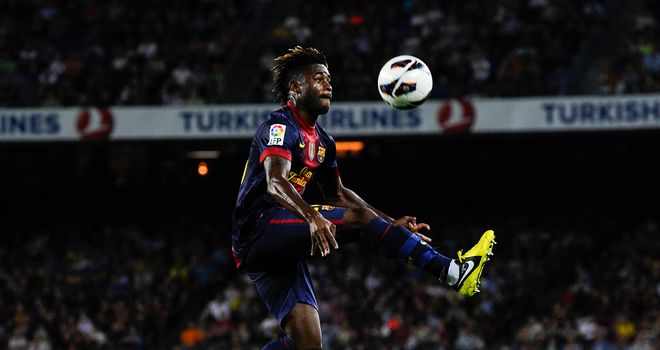 Alex Song: Could be used at centre-half at the weekend
The scarily competent, coherent and consistent Atlético Madrid could be the very big winners out of all these big two defensive issues. The Clásico of a fortnight ago, largely overshadowed the Rojiblancos sharing the top spot on points with Barcelona and that's how Atlético fans would have it, as whenever talk starts over the team being serious rivals to break the duopoly, a swift collapse usually occurs. Diego Simeone will be taking his team to San Sebastian to face Real Sociedad, a club whose away form is relegation standard with four defeats from four but Champions League-chasing with a 100% record from three matches.
Whilst all these matches are worth a look-see, the biggest spectacle of all is in Mestalla on Saturday night with two very big and very underperforming beasts, Valencia and Athletic Bilbao, locking horns in a clash that could see the end of the tenure of either of the club's bosses if the result is a defeat. Both sets of fans would be delighted to have nothing more to concern then over who will play at right-back, the shared preoccupation with two other complaining clubs this weekend.
This article first appeared on Football365.