Robert Gesink is in shock at hearing the news that Rabobank will pull out of cycling
Last Updated: October 19, 2012 4:15pm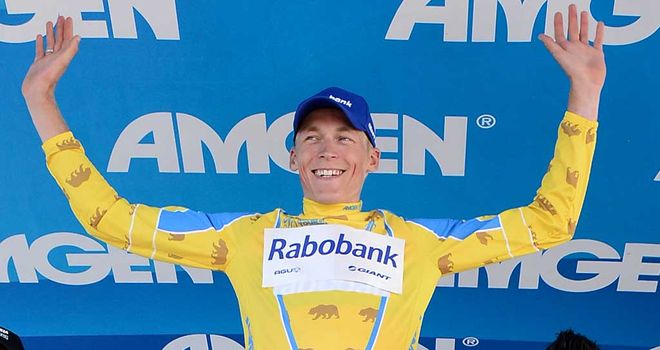 Robert Gesink: Says Rabobank withdrawal 'feels like a smack in the face'
Robert Gesink has admitted his disbelief at Rabobank's decision to pull out of cycling at the end of the year.
The Dutch financial services company has decided to call it a day after 16 years in sponsorship, in the wake of the US Anti-Doping case against Lance Armstrong, potentially leaving dozens of riders and staff without a team.
Gesink may find himself looking for a new team, although he hopes reports that the team will attempt to keep going and find a new sponsor come to fruition.
"It feels like a smack in the face at this moment," Gesink, who won the 2012 Tour of California, told cyclingnews.com.
"Of course there were a lot of bad things going on in cycling, everyone saw and it's never a good thing to have a sponsors name on something like that and I didn't think it would happen.
"Not at this moment when the team is full of young guys doing things the right way. Now this generation gets (criticism) from a different generation from before who did wrong things.
"Now we're losing one of the biggest sponsors in cycling ever. I don't have any words for it but it's one of the worst things that could happen.
"I'll wait for a bit and then speak to people from the team and see what the next few days will bring but at the moment I'm still a bit shocked.
"We've got a great team, a great structure and everything is working well with young talented guys. Stuff is coming out from ten years ago and we don't even know half the guys who were riding then. It's not really fair I guess."
"I don't think you can blame one person. This is something that happened a few years ago and it was a bad period for cycling.
"It's all come out for the big world to see and I'm only disappointed now in the people that say they're shocked about what went on and they're calling themselves insiders.
"Everyone on the inside knew that things in cycling had to change, and they did. Now we're working with young guys, doing it the right way and trying to get results in a clean way and doing it the way you should do it.
"This is the worst thing that could have happened at this moment. You cant' blame us for things that happened in America or different teams ten years ago.
"I hope so. For myself I had a tough season but I think I'm back at my top level and I think I can have a good season next year. Hopefully we'll have the same structure and team though."