Grosjean & Webber to face the press
Suzuka crash duo joined by Alonso, Vettel, Maldonado and Rosberg in Thursday press conference
Last Updated: 10/10/12 2:26pm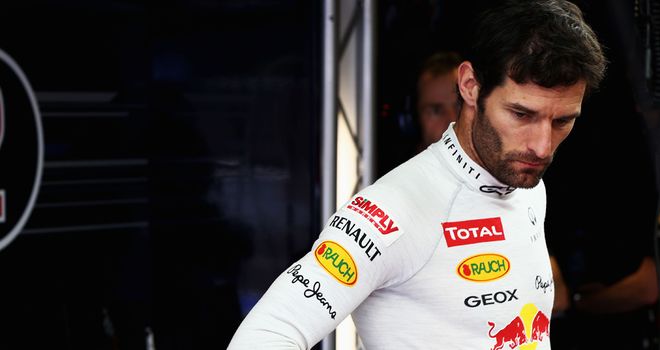 Mark Webber: Was angry with Grosjean after Japan
Mark Webber will appear alongside the driver he just three days ago branded a "nutcase", Romain Grosjean, in Thursday's Drivers' press conference ahead of the Korean Grand Prix - which you will be able to watch live on Sky Sports F1.
Grosjean was on the receiving end of an irate Webber's ire in the aftermath of last Sunday's Japanese GP after the Frenchman had spun the Australian's Red Bull round at the second corner of the race.
Although Grosjean has since revealed that he has apologised to Webber, the pair will come face-to-face for the first time in public at least on Thursday with questions on the incident - and Grosjean's controversial driving standards in general - likely to dominate proceedings.
Not far from that topic, as ever, though will be the title battle and the two men who currently look most likely to end the season as World Champion - Fernando Alonso and Sebastian Vettel - have also been selected to speak to the media, the former having been involved in his own costly first-lap collision at Suzuka.
Meanwhile, after casting doubt on his Williams future, the inclusion of Pastor Maldonado in the line-up is also fairly timely. Mercedes' Nico Rosberg completes the six-strong list.
In Friday's team bosses' equivalent, Red Bull and McLaren's respective technical gurus Adrian Newey and Paddy Lowe head the bill.
Thursday Drivers' Press Conference line-up
Live on Sky Sports F1 at 7am
Fernando Alonso (Ferrari)
Romain Grosjean (Lotus)
Pastor Maldonado (Williams)
Nico Rosberg (Mercedes)
Sebastian Vettel (Red Bull)
Mark Webber (Red Bull)
Friday Team Bosses' Press Conference line-up
Live on Sky Sports F1 at 8am
James Allison (Lotus)
Mark Gillan (Williams)
David Greenwood (Marussia)
Paddy Lowe (McLaren)
Adrian Newey (Red Bull)
Pierre Waché (Sauber)