Teams unite against bid to weaken power
Talks held at Suzuka ahead of Paris meeting
By Mike Wise at Suzuka. Last Updated: October 7, 2012 6:02am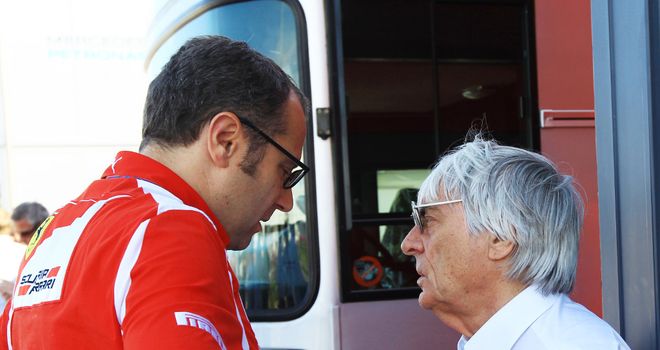 Meeting later this month: Ferrari's Stefano Domenicali and Bernie Ecclestone
Formula 1 Betting

Formula 1 Betting

Join the Free Bet Club
Formula 1 teams hope a united front will help them retain influence in shaping the sport's future when they meet the FIA and Bernie Ecclestone later this month.
A number of items are up for discussion at the meeting, which it is hoped will help speed up protracted haggling over a new Concorde Agreement.
The agreement, which binds together teams, the governing body and the commercial rights holder, is set to expire this year.
A majority of teams have already agreed commercial terms but a number of sticking points remain, relating to both finance and governance.
Questions have been asked of the FIA's plan to increase entry fees in a bid to raise income. The idea is that a flat fee will be paid, together with a progressive scale related to points earned.
However, that would mean that more successful teams could find their entry fee increased at least 10-fold.
There is also the question of a new Resource Restriction Agreement. Teams have so far tried to control costs by way of a gentleman's agreement, but proposals for the FIA to take over have yet to be agreed.
These matters were up for discussion at a meeting held in the paddock on Sunday morning ahead of the Japanese Grand Prix.
However, team bosses present failed to get beyond the top item on the agenda: the proposal to dilute their power to influence F1 rules.
Rule-making is set in motion by the F1 Commission, a stakeholder body comprising teams, the FIA and the commercial rights holder as well as race promoters, tyre and engine suppliers and prominent sponsors.
At present, each team has a presence. However, it has been proposed that their presence be diluted from 12 to six.
Faced with such a prospect, it appears that teams are trying to pull together. The allied front once presented by the Formula One Teams' Association might be a thing of the past, yet both FOTA and non-FOTA teams were present at Sunday's meeting. Red Bull and Toro Rosso, however, were absent.
Furthermore it is understood that, on the issue of the F1 Commission at least, the meeting was highly constructive.
Teams will meet the FIA and Ecclestone in Paris on October 23 in a bid to resolve their differences.