Liverpool will be left rueing their failure to convert arguably their best performance this season into a win against Manchester United
Rachel Griffiths looks back on an emotional encounter at Anfield which saw Brendan Rodgers' Liverpool offer encouraging signs but fail to take their chances against Manchester United.
By Rachel Griffiths - Follow me on Twitter @SkySportsRachG. Last Updated: September 24, 2012 2:54pm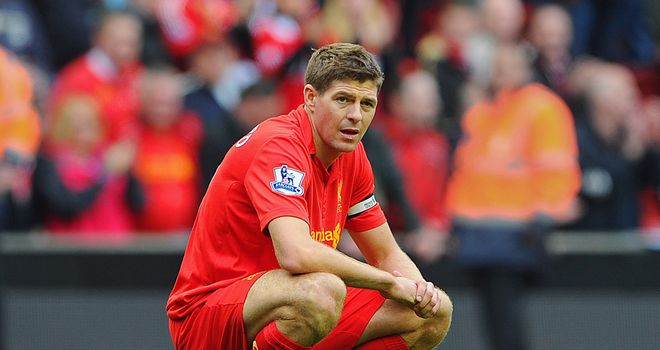 Steven Gerrard scored an emotional goal but couldn't steer Liverpool away from defeat.
Football Betting

Football Betting

£10 Free Bet
"If ever there was a reminder of how difficult it is to play at Anfield it was today. It really wasn't good enough at all." lamented Gary Neville after Manchester United's trip to Merseyside this weekend.
Anyone tuning into Sky Sports' Super Sunday who had missed the match could be forgiven for thinking United had been on the end of a heavy defeat given Neville's damning analysis. And after Liverpool ran riot over Sir Alex Ferguson's side for 50 minutes at Anfield and still kept coming after being reduced to 10 men, Reds fans will also be left wondering how United left Merseyside with another three points to their name.
For Brendan Rodgers' men, without a triumph in the Premier League this season and already in the relegation places, Sunday had offered the chance to claim a success that would ignite their campaign in front of their own fans and against their fiercest rivals.
Victory would have been particularly poignant in light of the circumstances under which the match was played, with the encounter marking the club's first home game since the publication of a report that exonerated Liverpool fans of any blame over the deaths of the 96 who lost their lives in the Hillsborough disaster in 1989.
As had been urged by various parties ahead of the clash, the focus of the afternoon was largely on the football once the pre-match tributes had been well-observed, with the only real mar on the occasion coming after the stadium had mostly emptied - when the aeroplane gestures made by a handful of Liverpool fans in front of the Manchester United supporters were met with cruel but regrettably predictable chants from the away end.
Before that infantile breaking of the afternoon's delicate peace between the clubs, Liverpool had staked a strong claim to mark the significant day with a much-needed win. Even after the game-changing sending-off of Jonjo Shelvey late in the first half, the Reds hinted that a fitting victory was still on the cards when talismanic captain Steven Gerrard volleyed home a left-footed opener which clearly held massive personal meaning in front of a jubilant Kop.
But this was United they were playing; a team well known for their ability, more so than any other Premier League side, to grind out results even when their performance isn't up to par. Liverpool know that as well as anyone, but were ultimately unable to prevent Ferguson's side turning another lacklustre display into a victory.
It had all started so well for Liverpool. A determined and committed Gerrard was the focal point of a dominant midfield from the off as the skipper, flanked by Shelvey and a typically ball-hogging Joe Allen, bossed proceedings against an overworked Ryan Giggs and Michael Carrick.
Promising teenager Raheem Sterling, on the right wing of Rodgers' familiar attacking 4-3-3 formation, looked dangerous throughout the opening half as he harassed a beleaguered United defence, while full-backs Glen Johnson and Martin Kelly had the freedom to bomb forward and provide extra service for Luis Suarez up front.
But despite a superior opening 45 minutes, which saw Liverpool have the better of shots and possession, it was goalless at the break - and the Reds were a man down.
Decisions
"The decisions that went against Liverpool, as well as the injury blows they suffered as Daniel Agger was stretchered from the pitch late on and Kelly hobbled off soon after, no doubt played a role in their defeat. But the Reds' problems are more widespread than those obstacles, with the club still very much in transition under Rodgers as he struggles to stamp his style on his new side."
Shelvey's dismissal was just one of the big decisions made by referee Mark Halsey that incurred the fury of the Anfield faithful on an afternoon where nothing seemed to go Liverpool's way. The midfielder charged in on the ball with a tackle almost mirrored by United defender Jonny Evans but while Evans got off without even a booking, Shelvey was sent down the tunnel, refusing to go quietly as he left Ferguson in no doubt of who he thought was to blame with a mouthful of abuse in the direction of the United bench.
Along with that game-altering red card, Halsey also awarded United a penalty after Antonio Valencia went down easily in the box after contact with Johnson, and the spot-kick turned out to be pivotal as Van Persie converted for the winner after Rafael's classy strike had cancelled out Gerrard's opener.
The penalty particularly irked the Reds after Suarez had been clipped in the box by Evans but nothing was given by the referee, with the theatrical manner in which he fell spread-eagled to the pitch likely to have swayed the official in United's favour.
The decisions that went against Liverpool, as well as the injury blows they suffered as Daniel Agger was stretchered from the pitch late on and Kelly hobbled off soon after, no doubt played a role in their defeat. But the Reds' problems are more widespread than those obstacles, with the club still very much in transition under Rodgers as he struggles to stamp his style on his new side.
Their most obvious shortcoming, and one that's nothing new to the Anfield fans, is their lack of cutting edge in front goal. In a match where United were alarmingly poor, the Reds should have seized the upper hand by converting their dominance into goals. Even when the Merseysiders were running the show, clear-cut chances were few and far between and Suarez, leading the line, never really looked like scoring.
The dearth of an out-and-out striker is a much-touted failing in Rodgers' side and the as-yet ineffectual Fabio Borini - who is yet to score for Liverpool in the league since his summer arrival - is struggling to settle. Played in an unfamiliar role out on the left, the young Italian was one of the home side's few weak links in an impressive first half, and inexperienced substitute Suso looked more of a threat when he replaced the injured striker after the break.
An instance where Borini was left particularly red-faced was in the first half when he darted inside to meet a pass cut superbly through the United defence by Suarez, only to waste the gilt-edged chance with a too-heavy first touch. But while that gaffe earned the youngster a telling off from both his Uruguayan team-mate and his skipper, the flowing move was one example of some attractive Liverpool play.
Early signs
The manager saw his set-up flourish in the opening half and will have been infuriated by Shelvey's red card, with served to throw a spanner in his initial approach. However, even after that setback, Rodgers reshuffled with the introduction of the promising Suso before tweaking his shape again to accommodate Jordan Henderson in place of the fading Sterling, and as a result Liverpool showed they could still pose a threat even with a one-man disadvantage.
The indications are there that Rodgers is slowly but surely starting to make his mark at Liverpool, with the Kop's defiant response to the United fans' chants of "you're getting sacked in the morning" speaking volumes for the club's willingness to give the Northern Irishman time. The reply of "There's only one Brendan Rodgers!" suggests the Reds fans appreciate the signs of promise the boss has brought to Liverpool's game, even if they're yet to yield results.
Liverpool might have spurned a golden opening to spark life into their flagging season at Anfield on Sunday but more opportunities will come, even if they're on a less high-profile stage. However, with the Reds hanging onto 18th place with two points from five games after their worst start to the league since 1911, they will be wise to start making the most of their chances sooner rather than later.