Home comforts for Cowboys
Cowboys enjoy a first taste of home
Last Updated: September 24, 2012 12:05am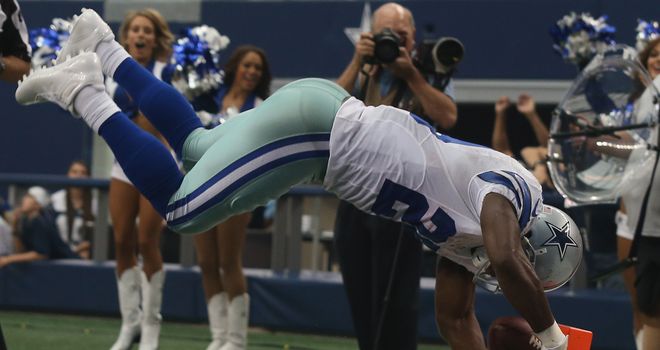 DeMarco Murray scores a Cowboys touchdown
American Football Betting

American Football Betting

£10 Free Bet
Dallas Cowboys secured a 16-10 victory in their home opener against the Tampa Bay Buccaneers.
The Cowboys (2-1) scored twice in the first half when starting in Tampa Bay territory after turnovers and overcame three turnovers by Tony Romo - two of them on plays reversed by replay -- with a suffocating defensive effort.
DeMarco Murray had an 11-yard TD run and Dan Bailey kicked field goals of 32, 26 and 22 yards for the Cowboys.
Tampa Bay (1-2) managed only 166 total yards, with two fumbles by quarterback Josh Freeman the Bucs managed to recover.
Attempt
One of those was on third down at their own 1, setting up Dez Bryant's 45-punt return to the 6 that set up Bailey's final field goal with 2:43 left in the game.
The Bucs got 70 of their yards after that, setting up Connor Barth's 28-yard field goal before the final onside kick attempt.
Dallas hadn't started a drive in the opponents' territory this season until Sean Lee's interception set them up at the 23 in the first quarter. That led to the tying touchdown by Murray.
A muffed punt recovered by Orie Lemon at the Bucs 39, with a 15-yard personal foul penalty tacked on, set up Bailey's first field goal.
Schiano won two challenges on plays in the third quarter, though his team failed to take advantage after both resulted in turnovers by Romo. They punted both times.
Romo was in the grasp of Gerald McCoy with his right arm extended, when he flicked the ball forward in what was initially ruled an incomplete pass. Officials watched the replay and determined the ball was loose when Romo tried to push it out, and called it a fumble recovered by Gary Gibson at the 19.
Sacked
The Bucs got to the Cowboys 42 before punting, but quickly got another chance after another challenge.
Michael Bennett pushed around tight end Jason Witten and sacked Romo, knocking the ball loose. Officials blew the whistle and indicated Romo was down before Schiano threw his red challenge beanie again.
After the review, it was ruled a fumble recovered by Eric Wright at the Dallas 31. But an intentional grounding penalty and two incompletions led to another punt.
The Bucs had a quick 7-0 lead after Romo -- who had 11 TDs with no interceptions his previous three games against them -- was picked off by Aqib Talib on the fourth play of the game at the Cowboys 29.
That led to Freeman's 1-yard TD pass to Luke Stocker.