Rally drive from Dods
Tylicki booking key for Cross bid
Last Updated: September 21, 2012 1:25pm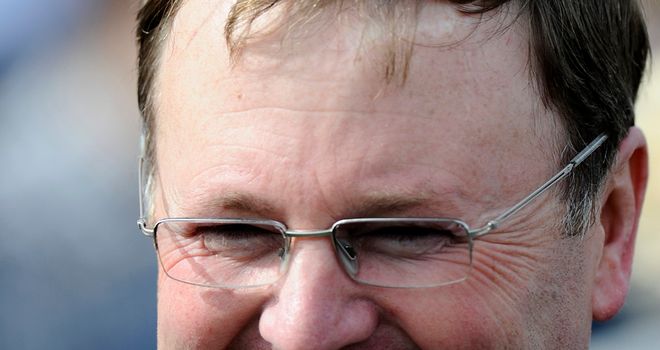 Michael Dods: High hopes of Ayr Silver Cup winner
Michael Dods is hoping Mass Rally's can finally hit the target in the William Hill Ayr Silver Cup on Saturday.
The five-year-old has been placed in a number of competitive sprints without getting his head in front this season, but he ran a rare bad race in the Portland at Doncaster last week.
However, Dods feels Mass Rally has a genuine excuse for that disappointment and can see him being involved in the finish once more.
The Darlington handler also runs the in-form filly Spinatrix.
"He got hampered at a vital stage last week and had no chance after that," said Dods.
"I nearly didn't run him because the ground was too firm for him anyway, but we decided to let him take his chance.
"He's come out of it in good form so he'll go again.
"They are both in good form and drawn well - I think. One's a hold-up horse (Mass Rally) and the other likes to be handy.
"Mass Rally certainly deserves to win one, he's been so unlucky this year. He just got stopped in his run at York and we've had the hood and blinkers on him the last twice to help him. Hopefully his turn will come.
"With the ground, it depends how much it dries up on Friday. I'm not saying he wants it heavy but he can handle it.
"The softer the better for Spinatrix, she loves it. She's been consistent all year but is high in the weights now."
Ancient Cross was a close fifth in the Portland last week for Mick Easterby, who has booked the in-form Freddie Tylicki for the eight-year-old.
"He's shown his best form of the season the last twice," said Ritchie Fiddes of Back Up Technology, part-owners of Ancient Cross.
"Five and a half furlongs is his ideal trip but he has run plenty of decent races over six before.
"He led home his group in the Bronze Cup a couple of years ago and came back with a nose bleed after he ran in the Gold Cup last year.
"He doesn't have any form on heavy ground but hopefully it will bring the others back to him. It's probably better for him at his age and with his arthritic knees, anyway."