KP hopes future is 'sorted'
Star batsman confident of return to England fold
Last Updated: 21/09/12 10:58am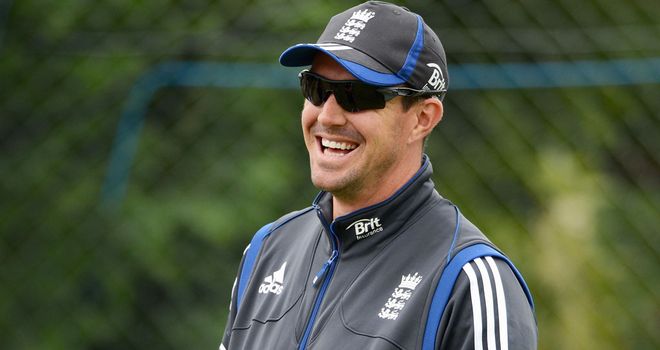 Kevin Pietersen: Hopes to return in new year
Kevin Pietersen is confident he has now sorted out his differences with the ECB and is looking to be part of the tour to New Zealand in the new year.
The 32-year-old was dropped from the Test team earlier this summer by the England and Wales Cricket Board after "provocative" texts were sent to opposing South African players at Headingley.
The star batsman is also playing no part in England's current defence of the ICC World Twenty20 in Sri Lanka, but believes he is on the verge of a recall.
In a Twitter exchange with New Zealand rugby union star Dan Carter on Friday morning, he wrote: "Hoping all's sorted and I'm on the NZ tour in Feb."
Resolved
Pietersen's remark comes a day after new Test captain Alastair Cook confirmed he has held meetings with the South Africa-born batsman, but issues remain to be resolved before he can resume his international career with his adopted country.
Cook replaced Strauss when the latter retired last month, and will travel to India for a tough four-Test tour there without Pietersen in his squad.
England's selectors felt unable to reintegrate the superstar batsman yet, and he was also left off the list of those with annual central contracts - meaning Pietersen will be a free agent once his current deal runs out at the end of this month.
Cook said: "I did have a meeting with Kev and I've been involved with (other) meetings as well.
"Clearly the issues haven't been resolved, and that's why he hasn't been made available for selection at the moment. Time, I hope, will be a healer and we will be able to move on."
The England and Wales Cricket Board had no comment to make in response to Pietersen's tweet this morning, and Cook refused to be drawn on what the issues are.
"That is private, and I can't talk about it," he said.
"For the best outcome possible we can't be talking about it. When the issue gets resolved - if the issue gets resolved - I hope he can come back and play for England.
"At the moment that can't happen. We're trying to do it behind closed doors to get the best possible outcome.
"It's a sad circumstance at the moment.
"He is a world-class player and he's not playing for England at this precise moment in time. He will be missed, but it gives another person an opportunity.
Available
"Meetings are still going on in Sri Lanka at the moment. (ECB chief executive) David Collier and (managing director) Hugh Morris are out there as well.
"If the issues can be resolved, Kevin has said he is available for selection - but at the moment that can't happen."
Strauss, meanwhile, has cleared the air with Pietersen after relations between them were strained over the reported content of the texts the latter sent to South African players.
"We did catch up. It was important we did," Strauss told Sky Sports News.
"He and I have had interesting times over the last month or two, and it was great to sit down with him.
"He apologised for a few things he had done. We've been through a lot together and had shared experiences. We're fine going forward."