Girard - Give Arsenal hell
Montpellier boss looking forward to Champions League opener
Last Updated: 17/09/12 8:50pm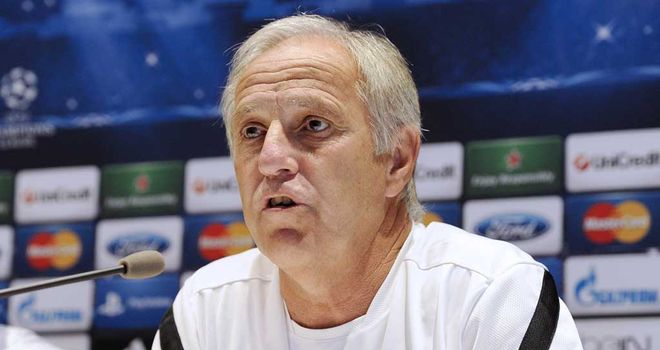 Rene Girard: Wants fans to generate a hostile atmosphere against Arsenal
Montpellier coach Rene Girard is relishing the game against Arsenal on Tuesday and has urged his club's fans to play their part.
The Gunners are experienced European campaigners and have started the new season in fine form, while Montpellier are struggling domestically in France and have never previously appeared in the UEFA Champions League.
However, Girard is looking forward to Tuesday's Group B opener and believes the supporters at Stade de la Mosson will be key if the underdogs are to give a good account of themselves.
"The one conviction I have is that we'll have 30,000 supporters and not 30,000 spectators, which will be very important," he said.
"We've had some great moments over the last three years but this season we've had some bad moments, and we need the fans to help us turn the stadium into hell for Arsenal."
He added: "I'm not used to letting myself get beaten. The objective today is to play an exceptional match. You don't play Arsenal every day, especially not in the Champions League.
"We've had a difficult start in the championship, but as I've been telling the players, it's up to us to turn things around.
"It's a huge thing to be among the best 32 European teams. I know that everyone is wondering how we'll avoid getting beaten tomorrow, but I'm sure that we'll show up."
Giroud praise
There will be a familiar face in the Arsenal squad on Tuesday, with Olivier Giroud returning to Montpellier for the first time since he left the club in the summer.
The France striker is still waiting for his first Arsenal goal, and lost his place in the starting XI to Gervinho in Saturday's 6-1 demolition of Southampton.
Girard said that Giroud's presence on the team sheet would not fundamentally alter his side's approach, but admitted he hopes his former charge receives a favourable reception from the Montpellier fans.
"They have something like 20 internationals so whoever's on the pitch will be complicated, whether it's Olivier or another player," he said.
"Olivier Giroud only left good memories. He worked hard for the club and I think the fans will welcome him as they should. But just a little hello and a little wave, and then we'll get down to business."