Eli leads Giants comeback
Superb comeback from champions as Big Blue win first of the season
By Paul Higham Twitter: @SkySportsPaulH. Last Updated: September 16, 2012 10:55pm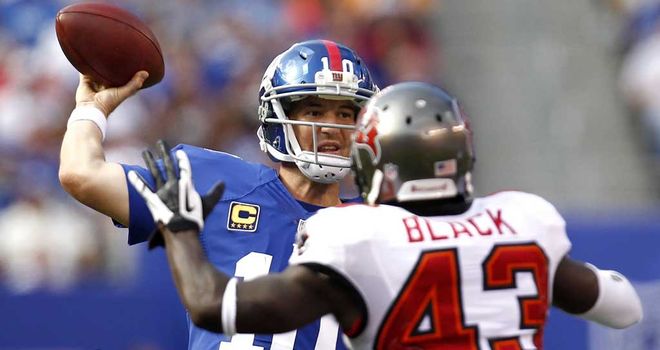 Eli Manning: Led superb comeback for Giants
American Football Betting

American Football Betting

£10 Free Bet
Eli Manning led his Super Bowl champion New York Giants to a superb comeback as they won a 41-37 thriller against the Tampa Bay Buccaneers at the MetLife Stadium.
After an opening night loss to Dallas, the Giants looked like dropping to another home defeat as the Bucs moved into a 14-point lead early in the third quarter.
Manning was partly the architect of the Giants' slump as he threw three first half interceptions, but he bounced back just like a two-time Super Bowl winner should with a wild second half passing display.
Three touchdown throws helped erase those three picks and Manning finished with an incredible 510 yards passing - the third best display in Giants history and eighth best ever seen in the NFL.
Things looked bleak for the hosts as Vincent Jackson caught a 29-yard pass from Josh Freeman, Doug Martin ran in from eight yards and Eric Wright returned Manning's third pick 60 yards for a 24-13 half-time lead.
Bright spot
A 23-yard strike from Manning to Hakeem Nicks was the only bright spot for the Big Blue quarter-back, but Tom Coughlin's half time team talk obviously did the trick.
After a Connor Barth field gold for Tamp Bay, the Giants put up 21 unanswered points to turn a 27-13 deficit into a 34-27 lead.
Victor Cruz finally made an impact on the season with a blistering 8-yard score, while tight end Martellus Bennett caught a 33-yard pass from Manning.
Just inside two minutes though, and the Giants secondary folded again as Mike Williams jumped highest to grab a 41-yard TD score and the game was tied up at 34.
Just as the Patriots had done in the Super Bowl, the Bucs then allowed the Giants to score when Manning got them in range - as they figured a touchdown with time to respond was better than New York running the clock down for a winning field goal.
Unchallenged
Andre Brown actually turned down the score on the first play, kneeling at the two, but he strangely ran it in on the next play and the Bucs had the chance to go down the field and possibly win it.
That chance came and went with Michael Boley's late interception, but even in the final knockings there was action as Tampa Bay shoved forward on the final knee even though teams traditionally just go through the motions.
Coughlin made his feelings known to opposite number Greg Schiano in a heated exchange after the game as there was no doubt the Super Bowl champions had been rattled and pushed all the way by the Bucs.
Manning led a 604-yard game for the Giants in total offence, with receivers Nicks and Cruz both enjoying career days with their tallies.
Nicks had 199 yards and a score from 10 receptions whilst Cruz caught 11 balls for 179 yards and a touchdown as the Giants avoided a dreaded 0-2 start in emphatic fashion.