Button DNF still vexing McLaren
Reason for Monza fuel system problem has stumped McLaren
Last Updated: 16/09/12 11:35am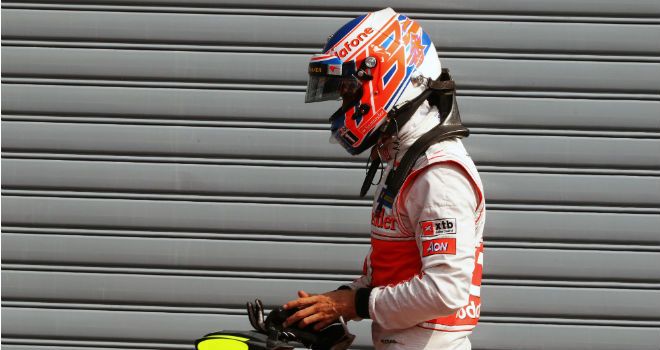 Jenson Button: Missed out on a likely second place in Italy
McLaren chief Martin Whitmarsh has admitted that the cause of the fuel pump failure on Jenson Button's car in the Italian GP remains a mystery for the team.
THE ONLY PLACE TO BE
Sky Sports F1 HD is THE only place to watch the 2012 F1 season in full live. Our extensive coverage continues with the Singapore GP live on 21-23rd September.
FRIDAY 21st - P1 from 10.45am. P2 from 14.15pm
SATURDAY 22nd - P3 from 10.45am. Q from 13.00pm
SUNDAY 23rd - Race from 11.30am
To find out all the different ways to watch the action, click here
At Monza last Sunday the Woking outfit were on course for their first 1-2 race finish since the season-opening race of the season when with 19 laps to go Button was forced to pull onto the grass coming down the backstraight when the Mercedes engine on his MP4-27 cut out.
But despite spending the following days investigating the cause of the failure back at their Woking factory, Whitmarsh has revealed to Sky Sports F1 that the incident has proved one of the rare times that the team have been unable to get to the bottom of a reliability problem.
"This is very unusual in my experience," he told The F1 Show.
"What we do know is that there were 50 kilos of fuel in the car, but it wasn't where we wanted it - i.e. being put into the engine.
Button's MP4-27 will be fitted with a replacement fuel system for next weekend's Singapore GP and although Whitmarsh is confident the Monza problem will prove a one-off, he admits they'd have rather been able to establish the cause of the fault.
"I can't recall now in the last few years where we haven't been able to get to the bottom of it [a problem]," Whitmarsh conceded.
"It's a fuel system that the fundamental design hasn't changed for five years, it's very complex.
"Clearly as you would imagine, there won't be one single component that was used in this car in Jenson's car in Singapore so in all probability we will never see it [the same problem] again but that's not quite as satisfying as saying 'actually, we know exactly what it was'".