Ambrose admits depression fight
International axe left Warwickshire gloveman "beyond miserable"
Last Updated: 15/09/12 11:16am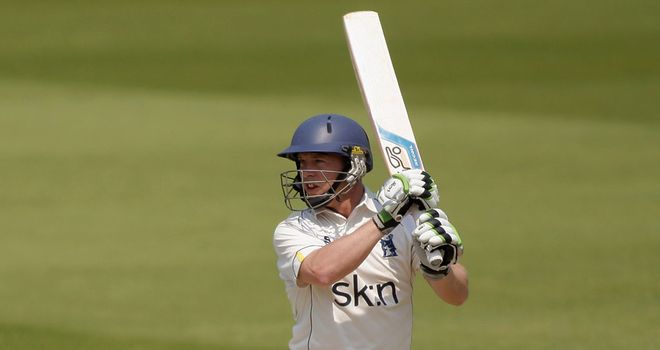 Tim Ambrose: Batlled depression after losing England place in 2009
Former England wicketkeeper Tim Ambrose revealed how a long battle with depression after losing his international place almost ruined his professional career.
The Warwickshire gloveman has not played for England since 2009 and has admitted that being cast into international exile left him at a low ebb.
The 29-year-old played in the last of his 11 Tests against the West Indies in Bridgetown, making an unbeaten 76 in his final innings.
However, it was not enough to retain his place, and that was the start of Ambrose's struggles.
Miserable
The Warwickshire star missed much of the 2010 domestic season as a result of his emotional spiral and he ended up facing a fight to save his career.
"I was beyond miserable. It felt like I had this duvet that was soaking wet wrapped around me, and I couldn't get it off."
Tim Ambrose Quotes of the week
"I was awake 24 hours a day, with things going around in my head," Ambrose told the Daily Telegraph.
"I was beyond miserable. It felt like I had this duvet that was soaking wet wrapped around me, and I couldn't get it off.
"I've had issues from a long time back, but it was an underlying thing that was easy to distract from.
"Since I was 15-years-old my goal was to play international cricket. That's all I wanted to do. Whenever anything got tough I could always focus back on to that end goal.
"Once I'd reached that goal and walked away I lost all direction. I thought, 'Why am I going to play cricket every day?"
However, Warwickshire surprised Ambrose by offering him a new contract for 2011. Keen to replay their faith, he has worked his way back into form and now enjoys the game and his life much more.
This season, he has helped Warwickshire to the County Championship title as well as the CB40 Trophy final, which takes place at Lord's on Saturday.
Vulnerable
Now Ambrose is preparing to help the Professional Cricketers' Association launch 'Mind Matters', a program of education and assistance for depression and anxiety, next week, along with fellow sufferers Marcus Trescothick and Michael Yardy.
"When it (depression) was happening to me I didn't understand what was going on," he says, "I didn't know I had depression," he added.
"I didn't know where to go. What has opened my eyes in dealing with it is that we don't know enough, especially as we as cricketers are people who, in my opinion, are quite vulnerable to it - there are lots of highs and lows and lots of time on the road which makes one's personal life quite difficult.
"The PCA does so many amazing things for us that everyone listens to what they have to say, so for them to make this an awareness subject will really get the message across to the players."