Agar - Nothing to lose
Wildcats boss sets sights on Rhinos scalp
Last Updated: 11/09/12 12:22pm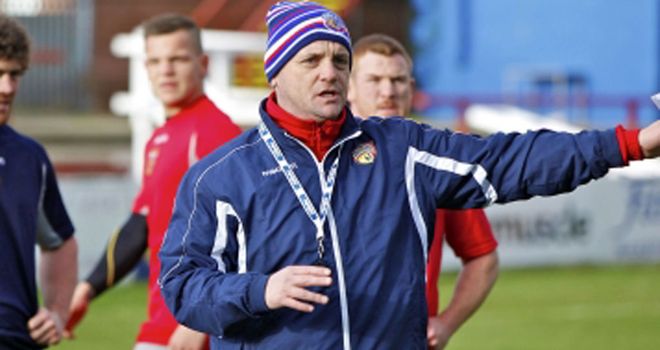 Richard Agar: Confident his side can trouble Leeds this weekend
Wakefield coach Richard Agar believes his in-form Wildcats are playing well enough to spring a major surprise when they visit Headingley to take on reigning champions Leeds Rhinos in the play-offs on Saturday.
Agar will take his side to Leeds this weekend on the back of a club-record seven-game winning streak which has seen the club secure a top-eight finish.
It has been a remarkable end to the season for Wakefield, who, after five defeats from their opening six Super League fixtures, looked anything but play-off material.
Speaking on his side's sensational U-turn in results, Agar told Sky Sports : "In the early part of the season we were competitive, but probably not competitive for long enough. We had a short pre-season and a lot of new players.
"We ironed out some things along the way and halfway through the season we had a couple of wins which really boosted our confidence.
Heroic
"We made a couple of changes to the balance of our team and from the halfway point of the season the records will show that we have been one of the form teams in the competition."
Wakefield have beaten Huddersfield, Leeds, Castleford, St Helens, Hull KR, Widnes and Salford in their last seven matches but face a Rhinos side who know exactly what it takes to come through the play-offs.
The five-time Grand Final winners finished the regular season in fifth place and Agar realises his players must produce a heroic defensive performance if they are to dethrone the reigning champions.
He added: "The pressure is off and we can really enjoy ourselves on the night and hopefully play our best football at Leeds. We've had a couple of close games with them in the league this year already and we know if we get our game right we can go to Headingley and put them in trouble.
"I think the big thing for us, as most people will acknowledge, is that defensively we've got to be strong for long periods of the game - especially on our own try-line.
"The speed that they've got shows that they are a danger throughout the field.
"We have built ourselves on a tremendous spirit, really good work ethic and team ethos and hopefully we can take that into the weekend with the confidence of seven wins on the trot."