Alvarez not looking ahead
Unbeaten Mexican fully focused on beating Lopez in Las Vegas
Last Updated: September 11, 2012 11:16am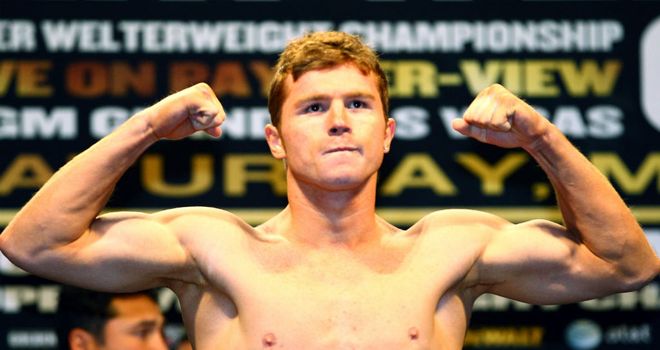 Saul Alvarez: Remaining focused on beating Josesito Lopez in Las Vegas this weekend
Unbeaten WBC light middleweight champion Saul Alvarez insists he will not be underestimating Josesito Lopez as he prepares to put his world title on the line in Las Vegas this weekend.
The rising Mexican star saw off both Ryan Rhodes and Matthew Hatton in 2011 and was a convincing points winner against Shane Mosley last time out in May.
He is already being groomed by Golden Boy promotions for mega-fights with the likes of Miguel Cotto and Floyd Mayweather Jr, but the 22-year-old is focused solely on overcoming Lopez (30-4-0) for the time being.
"He's a very smart fighter," stated Alavarez. "He's a good fighter, very smart. He's got very, very good combinations so I think he's a very good fighter.
"I'm never over-confident. I've prepared very well, I never, you know, think that any fighters are going to be an easy fight. So I'm not over-confident and I'm very, very well-prepared for this fight.
"Obviously he's a very good fighter. He's a fighter that knows how to pressure, he's also a fighter that knows how to counterpunch, but I think that I'm going to be prepared for everything. I'll do my best and I'm going to be prepared for the fight."
Asked about a potential match-up with Floydweather, he added: "You know, I don't think about that - I really don't.
"I'm just thinking about this fight, I have to fight Josesito and obviously there's always a lot of rumours, people talking, but I'm just thinking about Josesito and there's no secret; I just want to fight the best."
Lopez eyes upset
For his part, Lopez is looking to spring another surprise having caused an upset in his last outing when he stepped in at late notice to fight Victor Ortiz.
The 28-year-old from California is having to move up a couple of divisions to face Alvarez, but insists he is more than capable of holding his own against the naturally bigger man.
"We're not really focusing on the weight too much, which is completely different," he explained. "We're focusing on more on maintaining weight really, because throughout these intense workouts it's natural to start losing some weight.
"I think we've had a great nutritional diet that we've followed and I'm feeling stronger and better than ever and I think that's definitely what I'm going to have to need to come out with the victory. I know that I need to fight the best fight of my life to win.
"I think his size is an advantage for him, but we have had plenty of time to prepare for this fight and I think that for this fight I'm going to be the strongest I've ever been and I'm excited.
"I've studied some videos. I looked at him and obviously, like any fighter, he has some weaknesses - all of us do.
"He's well-conditioned, he always comes in shape, he's going to be ready for the fight.
"But he's the type of fighter that likes to dictate the pace and likes to dictate the fight, and I think we have to provide a game-plan so we can beat him and obviously be victorious."