Life-changing Games
British duo have experienced a great reception since medal joy
Last Updated: 11/09/12 10:57am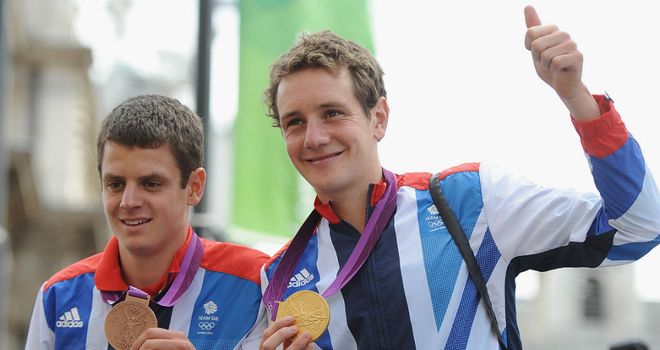 Brownlee brothers: Show off their medals during the athletes parade
Britain's triathlon brothers Alistair and Jonny Brownlee admit that their lives have changed forever after their Olympic heroics turned them into household names.
The brothers, who took gold and bronze in the triathlon, took part in the parade of Olympic and Paralympic athletes through the centre of London on Monday and found themselves once more stunned by their new-found fame.
Alistair, the older at 24, said: "It feels like life has changed for ever and it did after the race.
"We came down from Leeds to London on a train but we went home in a helicopter."
Amazing
His 22-year-old brother Jonny, the bronze medallist, added: "During the race we didn't have time to take everything in so to come round here and have people chanting your name is pretty amazing.
"In the week after the Olympics we couldn't really go out to restaurants because people were wanting pictures but it has quietened down a bit now.
"We came down from Leeds to London on a train but we went home in a helicopter."
Alistair Brownlee Quotes of the week
"When we go out training we go out in the woods near our house and we never used to get recognised, but now everyone is cheering you on, saying well done, cars are hooting you and drivers shouting well done. It has been great."
Close
Until now, the brothers have shared a cottage in a village just outside of Leeds along with another friend.
Now Jonny is moving out to a house of his own - but only just down the road.
He said: "It's just that we need more space. But it's very close. We'll still do everything together."