MLB: Quintana tames Tigers
A review of Monday's Major League Baseball action
Last Updated: 11/09/12 7:54am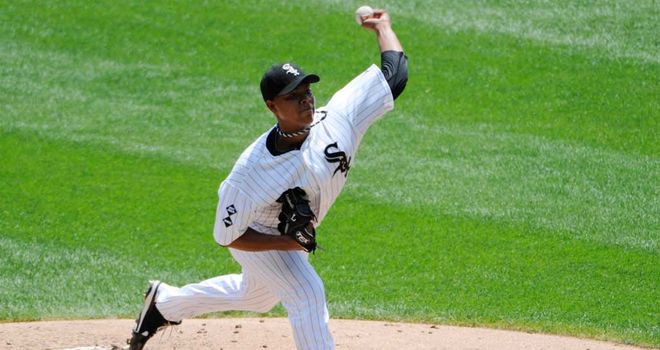 Jose Quintana: Fine display for the White Sox
The Chicago White Sox snapped a seven-game losing streak at the hands of the Detroit Tigers thanks to a convincing 6-1 victory.
Jose Quintana's pitching was a highlight, while Alex Rios and A.J. Pierzynski struck consecutive homers in the sixth inning to set up victory as the White Sox inceased their lead in the American League Central to three games.
Samuel Deduno struck out six to help the Central bottom side Minnesota Twins to a 7-2 victory over fellow strugglers the Cleveland Indians.
Deduno gave up just three hits while Pedro Florimon also shone with two great defensive plays to go with a double and a triple.
The Oakland Athletics ended the Los Angeles Angels' six-game winning streak in the AL West with a 3-1 success, with Brandon Moss and Cliff Pennington both homering.
Ryan Ludwick was the hero for the Cincinnati Reds as they recorded a 4-3 14th-inning victory in the NL Central over the Pittsburgh Pirates.
Ludwick drove the winning run with a two-out infield single to give the Reds a valuable win over Pittsburgh, who slumped to their fourth consecutive loss.
Norichika Aoki's two-run double proved to be key as the Milwaukee Brewers overcame the Atlanta Braves 4-1 and Kyle Kendrick struck out a career-high eight batters over seven innings as the Philadelphia Phillies claimed a 3-1 win over the Miami Marlins.
Gio Gonzalez extended his career high for wins to 19 in the Washington Nationals' 5-1 victory over the New York Mets and the Chicago Cubs triumphed 4-1 over the Houston Astros.
Cameron Maybin inspired the San Diego Padres to an 11-3 success over the St Louis Cardinals and the Colorado Rockies ended a five-match losing streak after edging past the San Francisco Giants 6-5.