Johnson: We'll learn from loss
Last Updated: September 10, 2012 9:19am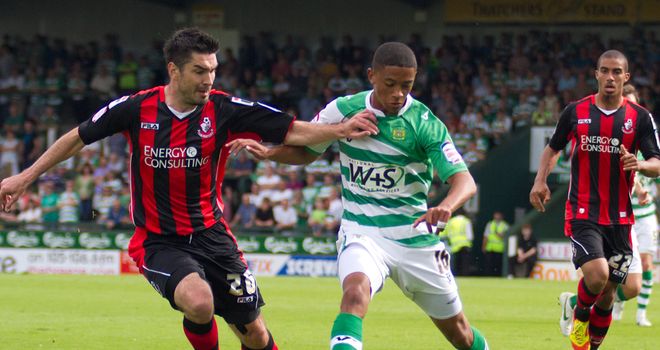 Richard Hughes tackles Nathan Ralph (Pic: Sophie Elbourn)
Yeovil manager Gary Johnson insists his young team will learn from Saturday's home defeat to Bournemouth.
Richard Hughes fired a first-half in free-kick to give the Cherries their first victory of the season, and it was a deserved win.
The visitors dominated and created several openings in the second half, with Yeovil goalkeeper Marek Stech thwarting Wes Fogden before Lewis Grabban and substitute Wes Thomas both shot wide
"I can't argue about the result, my complaints are with the team and the way we played," said Johnson. "We've had a great start so far this season and picked up some great results, but here we were second best.
"Mentally and physically we were below-par, but you don't lose faith in the players overnight. We've been beaten but we've been best in most of our games so far. Sometimes you've just got to hold your hands up.
"We've got a pretty young squad for this league and I've been pleased with us so far this season, and this will have been a good lesson and good experience for the team."