Murray pleased with preparation
Scot in positive mood as he prepares for Flushing Meadows semi
Last Updated: 08/09/12 12:23pm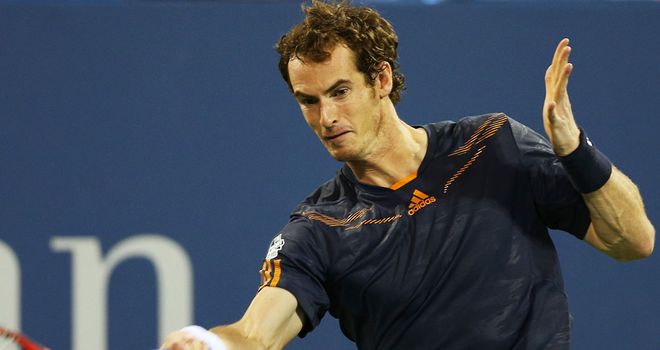 Andy Murray: Will face Tomas Berdych for a place in the final of the US Open
Andy Murray begins potentially the biggest weekend of his tennis career with a US Open semi-final against Tomas Berdych in New York later on Saturday.
The 25-year-old is hoping to turn Olympic gold into grand slam glory and, for once, he does not have either Rafael Nadal or Roger Federer standing in his way.
However, the path is certainly not easy with defending champion Novak Djokovic looking supreme on the other side of the draw, while Berdych produced a display of stunning power to dump Federer out in the quarter-finals.
The Czech is also something of a bogeyman for Murray. Aside from Nadal and Djokovic, the Scot has a winning record against every other member of the top 10, with the exception of Berdych.
The pair have met six times before, with the big-hitting Czech winning four of those matches, including their only previous grand-slam clash in the fourth round of the French Open two years ago.
Murray did beat Berdych in Dubai earlier this year for his first win over the world number seven in six years, but he lost their most recent match on clay in Monte Carlo in April.
The threat of Berdych was all too clear as he shocked a disbelieving Federer, but Murray is confident he has done everything to prepare in the right way.
Great respect
"It's about who plays the best tennis on the day," the British number one stated. "I've got great respect for Tomas and he's got a big game and I'll need to be at my best in the semi-final if I want to have a chance of winning.
Lendl - Early start could help
"But I've had a couple of days on the practice court now with [coach] Ivan [Lendl] and we're working hard on a gameplan. I'm happy with the preparations and am in a good place.
"I've had close matches with Tomas and he's a very good player who's just beaten Roger Federer. But all I can worry about and focus on is my game and make sure I'm ready for the challenge."
After Murray and Berdych do battle, Djokovic will take on fourth seed David Ferrer in the other semi-final.
Spaniard Ferrer has never reached a grand slam final and he will have his work cut out if Djokovic shows anything like the form he demonstrated in beating former champion Juan Martin Del Potro on Thursday.