MLB: Yankees back on top
Last Updated: 08/09/12 10:35am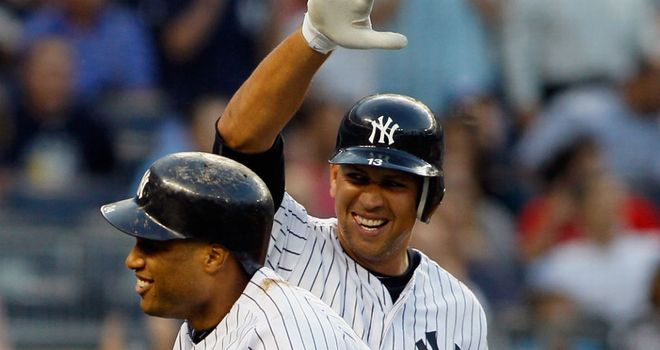 Alex Rodriguez: Blasted a huge 300th home run for the Yankees
The New York Yankees regained sole possession of first place in the American League East on Friday night with an 8-5 victory over the Baltimore Orioles at Camden Yards.
Alex Rodriguez smacked a huge 300th home run for the Yankees, with Russell Martin and Steve Pearce also connecting and Phil Hughes giving up three runs on six hits over six innings.
Ben Zobrist struck a two-run homer in the bottom of the 11th inning to hand the Tampa Bay Rays a 3-1 walk-off win over the AL West-leading Texas Rangers at Tropicana Field.
Edwin Encarnacion, Moises Sierra and Colby Rasmus went deep in the Toronto Blue Jays' 7-5 victory over the Boston Red Sox, Henderson Alvarez giving up just two runs over 6 1/3 innings, while two home runs from Lorenzo Cain helped the Kansas City Royals down the AL Central-leading Chicago White Sox 7-5.
In other AL games on Friday, the Oakland Athletics were 6-1 winners against the Seattle Mariners, the Cleveland Indians edged the Minnesota Twins 7-6 and the Los Angeles Angels squeezed past the Detroit Tigers 3-2.
In National League action, the East-leading Washington Nationals had their five-game winning streak halted in a 9-7 loss against Miami.
Jose Reyes' two-run triple in the top of the 10th inning proved decisive at Nationals Park, turning the series opener in the Marlins' favour and inflicting only a second defeat in 10 games on the Nats.
Travis Wood allowed just one hit over six innings and Starlin Castro had three hits and four RBI as the Chicago Cubs halted a six-game skid with an emphatic 12-2 triumph over the error-prone Pirates in Pittsburgh.
Matt Dominguez clubbed the game-winning three-run homer in the ninth inning as the Houston Astros toppled the Central-leading Cincinnati Reds 5-3, while the West-leading San Francisco Giants saw off the Los Angeles Dodgers 5-2.Finally, the San Diego Padres defeated the Arizona Diamondbacks 6-5, the Philadelphia Phillies overcame the Colorado Rockies 3-2, the Milwaukee Brewers edged out the St Louis Cardinals 5-4 after 13 innings and the Atlanta Braves recorded a third straight shutout in a 3-0 success against the New York Mets.