A belief in better
Azarenka must take game to dominant Serena, says Annabel
Last Updated: September 8, 2012 10:44am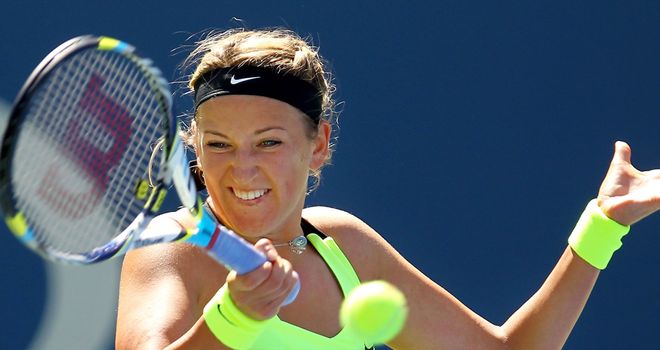 Azaranka: "It's my first final and I'm so excited".
Victoria Azarenka will have to overcome a major mental obstacle to beat Serena Williams in her first US Open final, according to Annabel Croft.
"I think Serena's almost punished Errani for being so small. She's five foot four and literally her legs just can't get her there - and if she does she's late onto the ball."
Annabel Croft Quotes of the week
World No 1 Azarenka fought back from a set down to see off third seed Maria Sharapova 3-6 6-2 6-4, while Williams cruised past Italy's Sara Errani 6-1 6-2 to set up Saturday's showdown. US Open microsite.
"Serena takes in a 9-1 head-to-head record against Azarenka and is looking very, very strong for that 15th Grand Slam title but interestingly enough in their very first match ups it was quite evenly paced," explained Croft on Sky Sports.
"Azarenka was leading Williams in the 2009 Australian Open in extreme temperatures; she took the first set and then started to suffer from heat exhaustion in the second and was taken off the court.
"So she troubled Serena in that match and she then annihilated her in the finals of Miami, then in another match at the 2010 Australian Open she led by a set and four games to love before Serena turned it around.
"Since then, though, Serena has stormed through with all of those match wins because something has happened that punished Azarenka's belief in her ability to beat Serena Williams."
Mismatch
Williams, who has dropped only 19 games in the tournament so far, needed just 64 minutes to overpower Errani thanks, in part, to 38 winners.
"It was almost like it was a mismatch," reflected Croft. "We always expected Serena to come out with the power play and from the back of the court she pummelled those corners.
"I think she's almost punished Errani for being so small. She's five foot four and literally her legs just can't get her there - and if she does she's late onto the ball.
"On top of all of that there's that amazing serve from Serena, which just gets her so many free points; it gets her momentum throughout her service game and it was one-way traffic. She never ever looked like she was going to be in trouble in that match."
Painful
Azarenka set for debut final
In contrast, Azarenka had to dig deep for two hours and 42 minutes to see off Sharapova, who hit 44 winners but also made 42 unforced errors.
"I think the forehand side of Sharapova, which has always been the slightly weaker side, was what started to go," reflected Croft.
"I think her serve was a major factor too; it was a major weapon at times and then it was a disaster at others. It was so unpredictable.
"But you have to admire what those two girls put out on the court - they certainly left no stone unturned. But it was quite painful to watch and listen to.
"It actually sounded a little bit like the torture chamber at the London Dungeons - it was quite unbearable to listen to!"
Tough
Fellow Sky Sports expert Greg Rusedski was impressed by the manner of Azarenka's recovery from a set and 3-1 down.
"It's a long time since Sharapova's lost in three sets but that's why Azarenka is the world No 1 right now and she is really mentally tough," said Rusedski.
"She was 5-2 down in that first set and down a break in the second set but she never really doubted herself. Her movement around the court is so good.
"What a big moment for her to get to her first US Open final but she is a deserved winner. She found a way to get it done - she just did everything that fraction better than Sharapova. Both of them play very, very similar games.
Boris Becker, the US Open men's singles champion in 1989, added: "It was quite a slug-fest. Once Azarenka was on the board in the second set and was able to win it I always felt that she had the momentum on her side.
"Sharapova didn't lose serve in the third set until she lost it for the match but Azarenka was always a serve ahead and I felt that eventually Sharapova was going to buckle under the pressure."