GB men blow medal hopes
Loss to Japan ends hopes of a wheelchair rugby medal
Last Updated: 07/09/12 6:10pm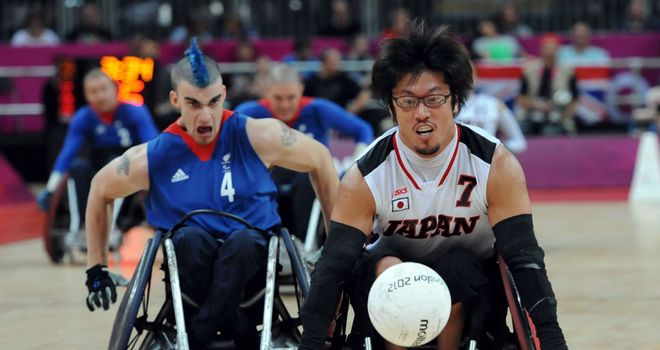 Great Britain crashed out of wheelchair rugby medal contention on Friday
Great Britain crashed out of wheelchair rugby medal contention after a 51-39 loss to Japan at the Basketball Arena on Friday.
Victory would have sent the host nation into a mouthwatering semi-final clash against unbeaten Australia on Saturday, with another capacity 10,000 crowd guaranteed.
But Steve Brown's team were punished for a sub-standard second-quarter performance that saw them outscored 13-4, which underpinned Japan's success.
Britain, fourth at the Beijing Paralympics in 2008, had high hopes of a medal in London with ambitions that they could mix it with Australia and current world number one team the United States.
Their only victory in Pool A, though, came against France on Thursday night, and Japan will now meet Australia with the United States tackling Canada, who scraped through following a 53-52 Pool B triumph against Sweden.
Opening quarter
Britain shaded the opening quarter 14-13 after Aaron Phipps and David Anthony scored all their goals between them, but there were some early second-quarter alarms when Japan opened a five-point lead.
Mistakes started to creep in as Japan dominated possession, and Britain required the presence of their solitary female player Kylie Grimes to reshape their tactical approach.
Britain, though, continued to be guilty of conceding way too much turnover possession, and Japan took the quarter by a landslide scoreline, giving their opponents a mountain to climb.
There was no way back, with Japan retaining control on the back of a comfortable lead and sending Britain into minor classification games tomorrow and Sunday as the crowd began leaving long before the end.