Du Toit's final chance
Watkin hails South African rival ahead of S9 100m freestyle final
Last Updated: 07/09/12 11:33am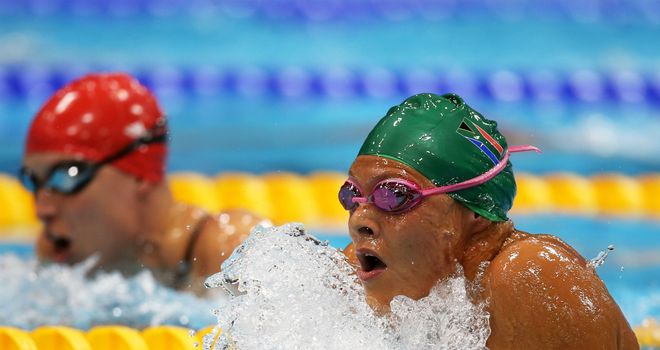 Natalie du Toit leads Louise Watkin during SM9 200m individual medley final
Louise Watkin will be witness to the end of an era when she competes against Natalie du Toit as the South African brings her career to a close in the S9 100 metres freestyle final.
Du Toit has won 13 Paralympic titles over three Games and has been a pioneer in the sport.
She competed in the open water at the Beijing Olympics as well as reaching the 800m freestyle final at the 2002 Commonwealth Games - the first time an athlete with a disability had qualified for the final of a non-disabled event.
The 28-year-old will bow out of the sport at the Aquatics Centre on Friday evening having qualified fastest for the 100m freestyle in one minutes 02.95 seconds as she seeks her third successive title in the event.
Watkin, winner of a silver and two bronzes in London, was third through, 0.05secs off second in 1min 04.63secs with just 1.40secs separating second to eighth.
Inspiration
Of Du Toit, whose left leg was amputated at the knee after being hit by a car in 2001, Watkin said: "It will be really sad to see her leave, she is a lovely person and she has been a huge inspiration throughout my whole life.
"But we'll see what she can do, she did a good swim this morning and I'd like to go up against her tonight and see what I can do as well.
"She has been really good for us and has competed in Olympic sport as well so she is just well-known everywhere I go."
Of her own race this morning, which came just hours after she edged out ParalympicsGB team-mate Claire Cashmore to take 200m individual medley bronze, the City of Salford swimmer said: "That was really strong, I just wanted to get into the final and I've done that so we'll see what I can do tonight."
The 20-year-old has had a punishing schedule at the latter end of the Games, something she was prepared for.
"I feel pretty tired when I get up but as soon as I get here again the crowd and the adrenalin just keep going," she said.
"I looked at the programme before I came and I knew I would have to race to the back end, that is just how my races fell, I couldn't miss any of them out because they are all my main events so I just keep going."