GB look to appeal
A lack of wind saw the final race cancelled
Last Updated: September 7, 2012 9:26am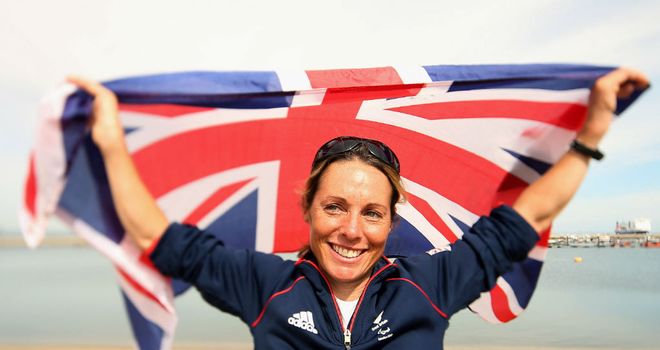 Helena Lucas: Won 2.4mR gold on the water
Great Britain's sailing team won their first two Paralympic medals ever on Thursday- and they have not given up hope of being awarded a third.
The hosts came into London 2012 without a medal since the sport's introduction at Sydney 2000, but that changed as Helena Lucas won 2.4mR gold and Alexandra Rickham and Niki Birrell took SKUD bronze.
Great Britain only missed out on a hat-trick of medals as a lack of wind saw the final race cancelled, putting paid to the Sonar team's hopes of a podium finish.
John Robertson, Stephen Thomas and Hannah Stodel would have won bronze had they not received a four-point penalty on Wednesday for a rule infringement, which dropped them down to fifth overall.
Requests to re-open the case were rejected, but the British team have not given up hope of still being awarded bronze that went to Norway as they explore their options to appeal the penalty.
Errors
RYA Olympic manager Stephen Park said: "We are trying to get the hearing reopened because we think there were some significant errors by the jury and some errors in the way they have interpreted the rules.
"We think the outcome is incorrect."
RYA Olympic manager Stephen Park Quotes of the week
"We provided them with evidence we felt was appropriate to get the hearing reopened and evidence we didn't have at the time from our original hearing.
"Some evidence we provided [on Wednesday] and some we provided [yesterday].
"We had a hearing [Wednesday] night and another two [yesterday] and on all of those occasions they have decided not to reopen the hearing.
"We felt that there had been a lot of good evidence provided and that's unfortunate. We think the outcome is incorrect.
"When you get to any situation where the athletes scorecard is being altered through a misunderstanding between two shore staff, one of which is a technical official and one of which is a team support staff, about something that doesn't have any impact on performance it is a sad day for the sport.
"We think that frankly, irrespective of the outcome, we need to make sure that this is rectified for the future.
"Obviously in the process we will be doing everything we can to get the hearing addressed appropriately and get John, Hannah and Steve the bronze medal that they deserve before the jury decision took it away from them."
Happy
There were no such issues for Lucas, who claimed gold in her class as the only woman in the 16-boat fleet.
"I am so used to going up against the guys I forget," she said. "I feel like one of the lads sometimes.
"You can tell they weren't too happy by the start of the week, but they got to terms with by the middle of it as I was sailing well.
"They are all very happy for me now."