Brits reach medal target
ParalympicsGB surpass medal total from Beijing
Last Updated: September 6, 2012 9:59pm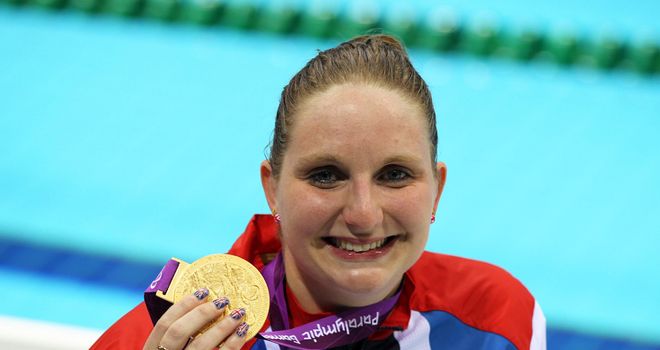 Heather Frederiksen: Grabbed another medal for GB
Great Britain's Paralympians achieved their medals target on day eight of the London 2012 Games.
UK Sport set a target before the Games of claiming at least 103 medals - one more than was won in Beijing - and that mark was hit on Thursday when Heather Frederiksen won silver in the women's S8 100 metres freestyle.
UK Sport chair Baroness Sue Campbell said: "For ParalympicsGB to reach this target with several days of competition still to go is a clear demonstration of the immense talent of the athletes on the programme, their hard work and dedication and the support network we have helped build around them."
The second part of UK Sport's target was to win medals in at least 12 sports. ParalympicsGB have so far been on the podium in 13.
Campbell continued: "The London Paralympics Games have been a truly wonderful display of sporting excellence and a testament to the power of the human spirit. To see what our athletes have achieved has been inspirational.
"The London Paralympics Games have been a truly wonderful display of sporting excellence and a testament to the power of the human spirit."
UK Sport chair Baroness Sue Campbell Quotes of the week
"This success is further proof that UK Sport's high performance system, funded by National Lottery, Government and private investment through Team 2012 investment, is one of the best in the world.
"Our Paralympic athletes have continued where their Olympic counterparts left off with a succession of truly brilliant performances."
The British team are also in line to exceed their targets in a number of individual sports.
Equestrian
The equestrian squad won 11 medals to better a target of 8-10, the cyclists so far have 20 against a target of 15-23 and by the start of this evening's session there had already been 19 medals in athletics.
The track and field athletes won 17 medals in total in Beijing, including just two golds, finishing 18th in the sport's own medal table, and were this time set a target of 17-30.
They are on course to finish third in the athletics medal table at London 2012.
UK Sport chief executive Liz Nicholl said: "To win at least 103 medals is a fantastic achievement particularly when you consider Paralympic sport is becoming hugely competitive with more nations investing significant resources in success.
"UK Sport's Mission 2012 process, through which we track how the athletes and the system within each sport is performing, gave us confidence that the Paralympic sports could deliver on this scale in London. It's been fantastic to witness and celebrate the medals being won.
Demonstrate
"These Games really do demonstrate the power of Paralympic sport to change lives and I am proud of UK Sport's role in driving the development of our performance system to ensure these remarkable athletes have the opportunity to fulfil their enormous potential."
It may not all be good news though. The hosts, who were second in the overall medal table in Beijing four years ago, are involved in a close battle with Russia to be runners-up behind China at London 2012.
ParalympicsGB chef de mission Craig Hunter said: "The final target remains to finish second overall in the medal table. We know that this will be a close run thing with three more days to go.
"As we predicted, China has proven to be untouchable at the head of the table. Russia are proving to be very powerful as are the USA, Ukraine, Australia and other nations who are all still in the mix."
On hitting the 103 target, he added: "I am delighted that we have succeeded in this aim with three days of competition still to go.
"It is testament to the talent, dedication and skill of the athletes who make up the team as well as to their support staff and to the funding we receive from the National Lottery and commercial partners."
Hugh Robertson, Minister for Sport and The Olympics, said: "ParalympicsGB have performed superbly to better the medal count from Beijing on home soil.
"They have made the nation proud with some inspirational displays at the highest level in sport. With funding already secured for Paralympics GB in the run up to Rio I am confident that disability sport in this country will go from strength to strength."